Categories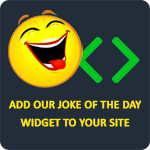 I was wondering why the ball kept getting bigger and bigger, and then it hit me.
Anonymous
Q: What did Obi-Wan say to Luke at the breakfast table?
A: "Use the fork, Luke."
The master
Q: How do trees access the internet?
A: They log in.
Kimberly Mauldin
Q: What did the banana say to the doctor?
A: "I'm not peeling well."
TheLaughFactory
Q: What do you call a Mexican that lost his car?
A: Carlos.
Steven Casby