Categories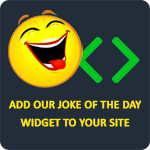 Q: Why shouldn't you make fun of a paleontologist?
A: Because you will get Jurasskicked.
the thingy
Q: What do computers eat for a snack?
A: Microchips!
Samanthas Awesome Jokes
Why is it that your nose runs, but your feet smell?
Anonymous
If you ever get cold, just stand in the corner of a room for a while. They're normally around 90 degrees.
Anonymous
I was wondering why the ball kept getting bigger and bigger, and then it hit me.
Anonymous