Categories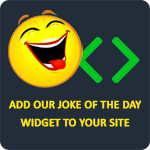 This crazy guy walks into a restaurant and tells the waiter, "Lemme get a cheeseburger, not too rare, not too well done, but right in the groove. Lemme get some fries, not too crispy, not too burnt, but right in the groove. And while you're at it, throw in a shake, not too thin, not too thick, but right in groove." The waiter took down the order and came back five minutes later and told the man, "The cook said you can kiss his ass, not to the left, not to the right, but right in the groove."
robboss301
I was wondering why the ball kept getting bigger and bigger, and then it hit me.
Anonymous
Q: What did Obi-Wan say to Luke at the breakfast table?
A: "Use the fork, Luke."
The master
Q: How do trees access the internet?
A: They log in.
Kimberly Mauldin
A boy is selling fish on a corner. To get his customers' attention, he is yelling, "Dam fish for sale! Get your dam fish here!" A pastor hears this and asks, "Why are you calling them 'dam fish.'" The boy responds, "Because I caught these fish at the local dam." The pastor buys a couple fish, takes them home to his wife, and asks her to cook the dam fish. The wife responds surprised, "I didn't know it was acceptable for a preacher to speak that way." He explains to her why they are dam fish. Later at the dinner table, he asks his son to pass the dam fish. He responds, "That's the spirit, Dad! Now pass the f*cking potatoes!"
bandajoey92