Categories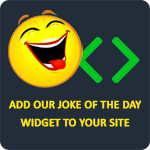 Why is it that your nose runs, but your feet smell?
Anonymous
A man who is just married is flying to the Florida Keys for a business trip. His new bride is to accompany him the next day. When he gets there, he e-mails his wife to let her know he made it there safely. When he sends the e-mail, he mistypes the address. In Boston, a grieving widow, whose husband has recently passed away, receives the e-mail. She reads it, screams, and faints. Hearing her grandmother's cry, the widow's 18 year old granddaughter runs into the living room to see the computer on, with a message that reads, "Dear love, I just got here. Preparing for your arrival tomorrow. Can't wait to see you. Love, Me. P.S. Sure is hot down here."
gericagijane
I was wondering why the ball kept getting bigger and bigger, and then it hit me.
Anonymous
I went to the bank the other day and asked the banker to check my balance, so she pushed me!
Anonymous
If the right side of the brain controls the left side of the body, then lefties are the only ones in their right mind.
Mark My Words