Categories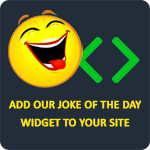 I was wondering why the ball kept getting bigger and bigger, and then it hit me.
Anonymous
A man got hit in the head with a can of Coke, but he was alright because it was a soft drink.
Anonymous
Did you hear about the guy whose whole left side was cut off? He's all right now.
LOLLYPOP
Q: Why shouldn't you make fun of a paleontologist?
A: Because you will get Jurasskicked.
the thingy
Why is it that your nose runs, but your feet smell?
Anonymous