Categories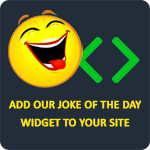 Q: What did the banana say to the doctor?
A: "I'm not peeling well."
TheLaughFactory
I was wondering why the ball kept getting bigger and bigger, and then it hit me.
Anonymous
Why did Humpty Dumpty push his girlfriend off the wall?
So he could see her crack!
Anonymous
Q: Did you hear about the kidnapping at school?
A: It's okay. He woke up.
Pat
A neutron walks into a bar and says, "I'd like a beer. How much will that be?" The bartender responds, "For you? No charge!"
Anonymous