Categories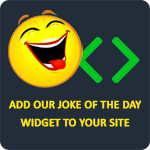 A blonde and a redhead have a ranch. They have just lost their bull. The women need to buy another, but only have $500. The redhead tells the blonde, "I will go to the market and see if I can find one for under that amount. If I can, I will send you a telegram." She goes to the market and finds one for $499. Having only one dollar left, she goes to the telegraph office and finds out that it costs one dollar per word. She is stumped on how to tell the blonde to bring the truck and trailer. Finally, she tells the telegraph operator to send the word "comfortable." Skeptical, the operator asks, "How will she know to come with the trailer from just that word?" The redhead replies, "She's a blonde so she reads slow: 'Come for ta bull.'"
Anonymous
Q: Did your hear about the man with a broken left arm and broken left leg?
A: Don't worry he's "ALRIGHT" now!
Brucey
Johnny was at school and the teacher said, "Someone use fascinate in a sentence." Sally answered, "The zoo was fascinating." The teacher said, "Sorry, Sally, I said to use fascinate in a sentence." Maria suggested, "I was fascinated at the zoo." Once again the teacher said, "No, Maria, I specifically said to use fascinate in a sentence." Johnny said, "My sister has ten buttons on her sweater." Again the teacher said, "Sorry, Johnny, I said use fascinate in a sentence." Johnny replied, "I know, but her boobs are so big she can only fasten eight."
Will Morgan, Kirill Sniff, my parents & Righley
A teacher asked, "Johnny, can you tell me the name of three great kings who have brought happiness and peace into people's lives?" Little Johnny responded, "Drin-king, smo-king, and f*c-king."
hachouma
Q: What is Mozart doing right now?
A: Decomposing.
Anonymous