Categories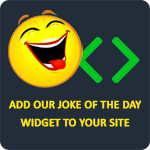 Q: Did you hear about the kidnapping at school?
A: It's okay. He woke up.
Pat
I was wondering why the ball kept getting bigger and bigger, and then it hit me.
Anonymous
Q: How do trees access the internet?
A: They log in.
Kimberly Mauldin
Q: What did the banana say to the doctor?
A: "I'm not peeling well."
TheLaughFactory
A string walks into a bar and orders a drink. The bartender turns to him and says, "Sorry, sir, we don't serve strings here." The next day, clinging to a thread, the string returns to that same bar and orders a drink again. The bartender, resolute, again turns and says, "I'm sorry, sir, but like I said, we don't serve strings here. I'm going to have to ask you not to return." Dejected, the string returns home. All night he tosses and turns, wriggles and writhes, and awakes the next morning not at all resembling himself. Catching a glimpse of himself in the mirror, he brightens and jets out his door to that bar. Swaggering in, he orders a drink one more time. The bartender stares at him, squinty eyed, and asks, "I'm sorry, are you a string? You look very familiar." The string locks eyes with the bartender, and states, "No, sir. I'm a frayed knot."
missrose