Categories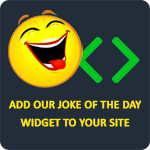 Did you hear about the Italian chef that died? Yeah, he pasta way.
Anonymous
Q: What did Obi-Wan say to Luke at the breakfast table?
A: "Use the fork, Luke."
The master
To the optimist, the glass is half full. To the pessimist, the glass is half empty. To the engineer, the glass is twice as big as it needs to be.
amuradi
As I was walking down the street, I noted a man with a large pole in his hand and stopped to ask, "Are you a pole-vaulter?" His response was, "No, I'm German, but how did you know my name was Walter?"
kiranvirdi
What's the difference between roast beef and pea soup? Anyone can roast beef but nobody can pee soup!
mgates4