Categories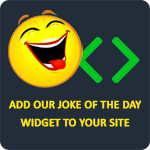 I went to the bank the other day and asked the banker to check my balance, so she pushed me!
Anonymous
Q: What did the blanket say when it fell of the bed?
A: "Oh sheet!"
gav1467
Q: What do computers eat for a snack?
A: Microchips!
Samanthas Awesome Jokes
A drunk walks into a bar with jumper cables around his neck. The bartender says, "You can stay but don't try to start anything."
Anonymous
If you ever get cold, just stand in the corner of a room for a while. They're normally around 90 degrees.
Anonymous