Categories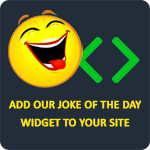 A man who is just married is flying to the Florida Keys for a business trip. His new bride is to accompany him the next day. When he gets there, he e-mails his wife to let her know he made it there safely. When he sends the e-mail, he mistypes the address. In Boston, a grieving widow, whose husband has recently passed away, receives the e-mail. She reads it, screams, and faints. Hearing her grandmother's cry, the widow's 18 year old granddaughter runs into the living room to see the computer on, with a message that reads, "Dear love, I just got here. Preparing for your arrival tomorrow. Can't wait to see you. Love, Me. P.S. Sure is hot down here."
gericagijane
I went to the bank the other day and asked the banker to check my balance, so she pushed me!
Anonymous
Q: What do computers eat for a snack?
A: Microchips!
Samanthas Awesome Jokes
If you ever get cold, just stand in the corner of a room for a while. They're normally around 90 degrees.
Anonymous
A drunk walks into a bar with jumper cables around his neck. The bartender says, "You can stay but don't try to start anything."
Anonymous