Categories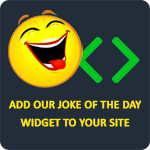 A teacher asked, "Johnny, can you tell me the name of three great kings who have brought happiness and peace into people's lives?" Little Johnny responded, "Drin-king, smo-king, and f*c-king."
hachouma
A boy is selling fish on a corner. To get his customers' attention, he is yelling, "Dam fish for sale! Get your dam fish here!" A pastor hears this and asks, "Why are you calling them 'dam fish.'" The boy responds, "Because I caught these fish at the local dam." The pastor buys a couple fish, takes them home to his wife, and asks her to cook the dam fish. The wife responds surprised, "I didn't know it was acceptable for a preacher to speak that way." He explains to her why they are dam fish. Later at the dinner table, he asks his son to pass the dam fish. He responds, "That's the spirit, Dad! Now pass the f*cking potatoes!"
bandajoey92
Q: Did you hear about the kidnapping at school?
A: It's okay. He woke up.
Pat
A man who is just married is flying to the Florida Keys for a business trip. His new bride is to accompany him the next day. When he gets there, he e-mails his wife to let her know he made it there safely. When he sends the e-mail, he mistypes the address. In Boston, a grieving widow, whose husband has recently passed away, receives the e-mail. She reads it, screams, and faints. Hearing her grandmother's cry, the widow's 18 year old granddaughter runs into the living room to see the computer on, with a message that reads, "Dear love, I just got here. Preparing for your arrival tomorrow. Can't wait to see you. Love, Me. P.S. Sure is hot down here."
gericagijane
Johnny was at school and the teacher said, "Someone use fascinate in a sentence." Sally answered, "The zoo was fascinating." The teacher said, "Sorry, Sally, I said to use fascinate in a sentence." Maria suggested, "I was fascinated at the zoo." Once again the teacher said, "No, Maria, I specifically said to use fascinate in a sentence." Johnny said, "My sister has ten buttons on her sweater." Again the teacher said, "Sorry, Johnny, I said use fascinate in a sentence." Johnny replied, "I know, but her boobs are so big she can only fasten eight."
Will Morgan, Kirill Sniff, my parents & Righley