Categories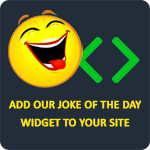 What do you call four Mexicans in quicksand? Quatro sink-o!
kolchefske
To the optimist, the glass is half full. To the pessimist, the glass is half empty. To the engineer, the glass is twice as big as it needs to be.
amuradi
A neutron walks into a bar and says, "I'd like a beer. How much will that be?" The bartender responds, "For you? No charge!"
Anonymous
Q: What do you call a midget psychic who just escaped from prison? A: A small medium at large.
TheLaughFactory
Q: What did Obi-Wan say to Luke at the breakfast table?
A: "Use the fork, Luke."
The master