Categories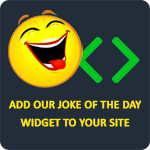 Johnny was at school and the teacher said, "Someone use fascinate in a sentence." Sally answered, "The zoo was fascinating." The teacher said, "Sorry, Sally, I said to use fascinate in a sentence." Maria suggested, "I was fascinated at the zoo." Once again the teacher said, "No, Maria, I specifically said to use fascinate in a sentence." Johnny said, "My sister has ten buttons on her sweater." Again the teacher said, "Sorry, Johnny, I said use fascinate in a sentence." Johnny replied, "I know, but her boobs are so big she can only fasten eight."
Will Morgan, Kirill Sniff, my parents & Righley
A drunk walks into a bar with jumper cables around his neck. The bartender says, "You can stay but don't try to start anything."
Anonymous
Gandhi walked barefoot most of the time, which produced an impressive set of calluses on his feet. He also ate very little, which made him rather frail and with his odd diet, he suffered from bad breath. This made him a super calloused fragile mystic hexed by halitosis.
TheLaughFactory
A man speaks frantically into the phone, "My wife is pregnant, and her contractions are only two minutes apart!" "Is this her first child?" the doctor queries. "No, you idiot!" the man shouts. "This is her husband!"
rigocarr86
One night a lady came home from her weekly prayer meeting, found she was being robbed, and she shouted out, "Acts 2:38: 'Repent & be baptized & your sins will be forgiven.'" The robber quickly gave up & the lady rang the police. While handcuffing the criminal, a policeman said, "Gee mate, you gave up pretty easily. How come you gave up so quickly?" The robber said, "She said she had an axe and two 38's!"
Nina Jobling