Categories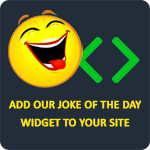 Q: What nails do carpenters hate to hit?
A: Fingernails.
TheLaughFactory
Q: What do you call a midget psychic who just escaped from prison? A: A small medium at large.
TheLaughFactory
A neutron walks into a bar and says, "I'd like a beer. How much will that be?" The bartender responds, "For you? No charge!"
Anonymous
Q: On what kind of ships do students study? A: Scholarships.
Anonymous
A man is telling his neighbor, "I just bought a new hearing aid. It cost me $4000, but it's state of the art. It's perfect." "Really?" answers the neighbor. "What kind is it?" "12:30."
Anonymous