Categories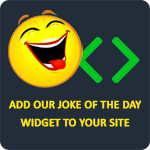 Q: How do astronomers organize a party?
A: They planet.
Wenz
Q: What did the blanket say when it fell of the bed?
A: "Oh sheet!"
gav1467
Q: Why does Humpty Dumpty love autumn?
A: Because Humpty Dumpty had a great fall.
TheLaughFactory
Q: Can a kangaroo jump higher than the Empire State Building?
A: Of course. The Empire State Building can't jump.
bobby
A man is being arrested by a female police officer, who informs him, "Anything you say can and will be held against you." The man replies, "Boobs!"
Chris Gunson