Categories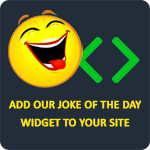 THREE TREES AND A WOODPECKER
Two tall trees, a birch and a beech, are growing in the woods. A small tree begins to grow between them, and the beech says to the birch, "Is that a son of a beech or a son of a birch?" The birch says he cannot tell, but just then a woodpecker lands on the sapling.

The birch says, "Woodpecker, you are a tree expert. Can you tell if that is a son of a beech or a son of a birch?"

The woodpecker takes a taste of the small tree and replies, "It is neither a son of a beech nor a son of a birch, It is, however, the best piece of ash I have ever poked my pecker into."

Now wipe that smile off your face.

Muddy1
A drunk walks into a bar with jumper cables around his neck. The bartender says, "You can stay but don't try to start anything."
Anonymous
How do you embarrass an archaeologist? Show him a used tampon and ask, "What period is this from?"
jakethasnake92
This crazy guy walks into a restaurant and tells the waiter, "Lemme get a cheeseburger, not too rare, not too well done, but right in the groove. Lemme get some fries, not too crispy, not too burnt, but right in the groove. And while you're at it, throw in a shake, not too thin, not too thick, but right in groove." The waiter took down the order and came back five minutes later and told the man, "The cook said you can kiss his ass, not to the left, not to the right, but right in the groove."
robboss301
What do you call four Mexicans in quicksand? Quatro sink-o!
kolchefske