Categories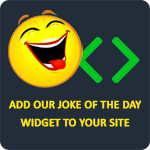 Q: What do you call a bear with no teeth?
A: A gummy bear.
Anonymous
A teacher asked her students to use the word "beans" in a sentence. "My father grows beans," said one girl. "My mother cooks beans," said a boy. A third student spoke up, "We are all human beans."
XD XD XD XD
A lady comes home from her doctor's appointment grinning from ear to ear. Her husband asks, "Why are you so happy?" The wife says, "The doctor told me that for a forty-five year old woman, I have the breasts of a eighteen year old." "Oh yeah?" quipped her husband, "What did he say about your forty-five year old ass?" She said, "Your name never came up in the conversation."
Mark My Words
Instead of "the John," I call my toilet "the Jim." That way it sounds better when I say I go to the Jim first thing every morning.
Rudy T. Monkey
Q: How do you count cows?
A: With a cowculator.
Anonymous