Categories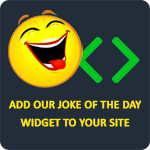 A teacher asked her students to use the word "beans" in a sentence. "My father grows beans," said one girl. "My mother cooks beans," said a boy. A third student spoke up, "We are all human beans."
XD XD XD XD
A lady comes home from her doctor's appointment grinning from ear to ear. Her husband asks, "Why are you so happy?" The wife says, "The doctor told me that for a forty-five year old woman, I have the breasts of a eighteen year old." "Oh yeah?" quipped her husband, "What did he say about your forty-five year old ass?" She said, "Your name never came up in the conversation."
Mark My Words
Instead of "the John," I call my toilet "the Jim." That way it sounds better when I say I go to the Jim first thing every morning.
Rudy T. Monkey
Q: How do astronomers organize a party?
A: They planet.
Wenz
Mother superior tells two new nuns that they have to paint their room without getting any paint on their clothes. One nun suggests to the other, "Hey, let's take all our clothes off, fold them up, and lock the door." So they do this, and begin painting their room. Soon they hear a knock at the door. They ask, "Who is it?" "Blind man!" The nuns look at each other and one nun says, "He's blind, so he can't see. What could it hurt?" They let him in. The blind man walks in and says, "Hey, nice tits. Where do you want me to hang the blinds?"
Anonymous