Categories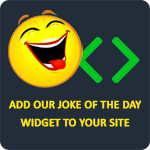 Q: Why did the golfer wear two pairs of pants?
A: In case he got a hole in one.
Anonymous
How many snowboarders does it take to screw in a lightbulb? 50: 3 to die trying, 1 to actually pull it off, and 46 other to say, "man, I could do that!"
dherter
A football coach walked into the locker room before a game, looked over to his star player and said, "I'm not supposed to let you play since you failed math, but we need you in there. So what I have to do is ask you a math question, and if you get it right, you can play." The player agreed, and the coach looked into his eyes intently and asks, "Okay, now concentrate... what is two plus two?" The player thought for a moment and then he answered, "4?" "Did you say 4?!?" the coach exclaimed, excited that he got it right. At that, all the other players on the team began screaming, "Come on coach, give him another chance!"
TheLaughFactory
Golfer: "I'd move heaven & earth to break 100 on this course." Caddy: "Try heaven; you've already moved most of the earth."
Anonymous
If at first you don't succeed, skydiving is not for you!
Anonymous