Categories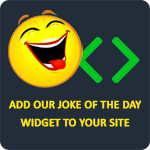 A man joins a soccer team and his new teammates inform him, "At your first team dinner as the new guy, you will have to give us a talk about sex." The evening arrives and he gives a detailed, humorous account of his sex life. When he got home, his wife asked how the evening went and not wanting to lie, but also not wanting to explain exactly what happened, he said, "Oh, I had to make a talk about yachting," his wife thought this a little peculiar but said nothing more and went to sleep. The next day she bumped into one of his new teammates at the supermarket and asked, "I heard my husband had to make a speech last night. How did it go?" His mate said smiling, 'Oh, it was excellent! Your husband is clearly very experienced!." The wife looked confused and replied to his mate, "Strange, he has only done it twice and the second time he was sick."
Anonymous
A football coach walked into the locker room before a game, looked over to his star player and said, "I'm not supposed to let you play since you failed math, but we need you in there. So what I have to do is ask you a math question, and if you get it right, you can play." The player agreed, and the coach looked into his eyes intently and asks, "Okay, now concentrate... what is two plus two?" The player thought for a moment and then he answered, "4?" "Did you say 4?!?" the coach exclaimed, excited that he got it right. At that, all the other players on the team began screaming, "Come on
coach, give him another chance!"
TheLaughFactory
The huge college freshman decided to try out for the football team. "Can you tackle?" asked the coach. "Watch this," said the freshman, who proceeded to run smack into a telephone pole, shattering it to splinters. "Wow," said the coach. "I'm impressed. Can you run?" "Of course I can run," said the freshman. He was off like a shot, and, in just over nine seconds, he had run a hundred yard dash. "Great!" enthused the coach. "But can you pass a football?" The freshman hesitated for a few seconds. "Well, sir," he said, "if I can swallow it, I can probably pass it."
TheLaughFactory
There is an overweight guy who is watching TV. A commercial comes on for a guaranteed weight loss of 10 pounds in a week. So the guy, thinking what the hell, signs up for it. Next morning an incredibly beautiful woman is standing at his door in nothing but a pair of running shoes and a sign about her neck that reads, "If you can catch me, you can have me." As soon as he sees her, she takes off running. He tries to catch her, but is unable. This continues for a week, at the end of which, the man has lost 10 pounds. After this he tries the next weight loss plan, 15 pounds in a week. The next morning an even more beautiful woman is standing at the door, in similar conditions. The same happens with her as the first woman, except he almost catches her. This continues for a week, at the end of which he, as suspected, weighs 15 pounds less. Excited about this success, he decides to do the master program. Before he signs up, he is required to sign a waiver and is warned about the intensity of this plan. Still he signs up. The next morning, waiting at the door, is a hulking 300 pound muscle man with nothing but a pair of running shoes, a raging erection, and a sign around his neck that says, "If I catch you, you're mine!" The man was supposed to lose 25 pounds in the week; he lost 34.
Anonymous
Q: What's the difference between England and a teabag?
A: A teabag could stay in the cup for longer.
yo cuzz