Categories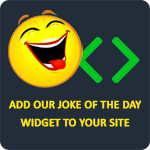 Q: What's the difference between England and a teabag?
A: A teabag could stay in the cup for longer.
yo cuzz
Q: What do you call a bench full of white people?
A: The MLB.
Anonymous
Q: Why did the golfer wear two pairs of pants?
A: In case he got a hole in one.
Anonymous
Golfer: "Do you think my game is improving?"
Caddy: "Yes sir, you miss the ball much closer now."
Anonymous
If at first you don't succeed, skydiving is not for you!
Anonymous