Categories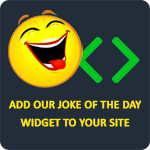 Q: What do you call a bench full of white people?
A: The MLB.
Anonymous
Q: What's the difference between England and a teabag?
A: A teabag could stay in the cup for longer.
yo cuzz
A Giants fan, a Padre fan, and a Dodger fan are climbing a mountain and arguing about who loves his team more. The Padre fan insists he's the most loyal. "This is for San Diego!" he yells and jumps off the side of the mountain. Not to be outdone, the Giants fan is next to profess his love for his team. He yells, "This is for San Francisco!" and pushes the Dodger fan off the mountain.
fyniyah
The huge college freshman decided to try out for the football team. "Can you tackle?" asked the coach. "Watch this," said the freshman, who proceeded to run smack into a telephone pole, shattering it to splinters. "Wow," said the coach. "I'm impressed. Can you run?" "Of course I can run," said the freshman. He was off like a shot, and, in just over nine seconds, he had run a hundred yard dash. "Great!" enthused the coach. "But can you pass a football?" The freshman hesitated for a few seconds. "Well, sir," he said, "if I can swallow it, I can probably pass it."
TheLaughFactory
How many snowboarders does it take to screw in a lightbulb? 50: 3 to die trying, 1 to actually pull it off, and 46 other to say, "man, I could do that!"
dherter