Categories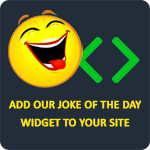 Three guys go to a ski lodge, and there aren't enough rooms, so they have to share a bed. In the middle of the night, the guy on the right wakes up and says, "I had this wild, vivid dream of getting a hand job!" The guy on the left wakes up, and unbelievably, he's had the same dream, too. Then the guy in the middle wakes up and says, "That's funny, I dreamed I was skiing!"
TheLaughFactory
It's game 7 of the NBA finals and a man makes his way to his seat at center court. He sits down and notices that the seat next to him is empty. He leans over and asks his neighbor if someone is sitting there. He responds, "No, the seat's empty." "The first man exclaims, "What?!? Who in their right mind would have a seat like this for the NBA finals and not use it?" The neighbor responds, "Well the seat is mine, but my wife passed away and this is the first NBA finals we haven't been together." The first man responds," I'm sorry to hear that. Wasn't there anyone else, a friend or relative, that could've taken that seat?" The neighbor responds, "No, they're all at the funeral."
bcma01
If at first you don't succeed, skydiving is not for you!
Anonymous
A Giants fan, a Padre fan, and a Dodger fan are climbing a mountain and arguing about who loves his team more. The Padre fan insists he's the most loyal. "This is for San Diego!" he yells and jumps off the side of the mountain. Not to be outdone, the Giants fan is next to profess his love for his team. He yells, "This is for San Francisco!" and pushes the Dodger fan off the mountain.
fyniyah
Golfer: "I'd move heaven & earth to break 100 on this course." Caddy: "Try heaven; you've already moved most of the earth."
Anonymous