Categories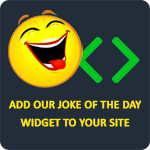 Three guys go to a ski lodge, and there aren't enough rooms, so they have to share a bed. In the middle of the night, the guy on the right wakes up and says, "I had this wild, vivid dream of getting a hand job!" The guy on the left wakes up, and unbelievably, he's had the same dream, too. Then the guy in the middle wakes up and says, "That's funny, I dreamed I was skiing!"
TheLaughFactory
There is an overweight guy who is watching TV. A commercial comes on for a guaranteed weight loss of 10 pounds in a week. So the guy, thinking what the hell, signs up for it. Next morning an incredibly beautiful woman is standing at his door in nothing but a pair of running shoes and a sign about her neck that reads, "If you can catch me, you can have me." As soon as he sees her, she takes off running. He tries to catch her, but is unable. This continues for a week, at the end of which, the man has lost 10 pounds. After this he tries the next weight loss plan, 15 pounds in a week. The next morning an even more beautiful woman is standing at the door, in similar conditions. The same happens with her as the first woman, except he almost catches her. This continues for a week, at the end of which he, as suspected, weighs 15 pounds less. Excited about this success, he decides to do the master program. Before he signs up, he is required to sign a waiver and is warned about the intensity of this plan. Still he signs up. The next morning, waiting at the door, is a hulking 300 pound muscle man with nothing but a pair of running shoes, a raging erection, and a sign around his neck that says, "If I catch you, you're mine!" The man was supposed to lose 25 pounds in the week; he lost 34.
Anonymous
It's game 7 of the NBA finals and a man makes his way to his seat at center court. He sits down and notices that the seat next to him is empty. He leans over and asks his neighbor if someone is sitting there. He responds, "No, the seat's empty." "The first man exclaims, "What?!? Who in their right mind would have a seat like this for the NBA finals and not use it?" The neighbor responds, "Well the seat is mine, but my wife passed away and this is the first NBA finals we haven't been together." The first man responds," I'm sorry to hear that. Wasn't there anyone else, a friend or relative, that could've taken that seat?" The neighbor responds, "No, they're all at the funeral."
bcma01
A football coach walked into the locker room before a game, looked over to his star player and said, "I'm not supposed to let you play since you failed math, but we need you in there. So what I have to do is ask you a math question, and if you get it right, you can play." The player agreed, and the coach looked into his eyes intently and asks, "Okay, now concentrate... what is two plus two?" The player thought for a moment and then he answered, "4?" "Did you say 4?!?" the coach exclaimed, excited that he got it right. At that, all the other players on the team began screaming, "Come on
coach, give him another chance!"
TheLaughFactory
Yo mom is so dumb that she thought Dunkin' Donuts was a basketball team.
Anonymous