Categories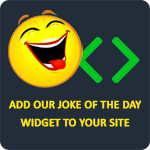 How do you know when a woman is about to say something smart? When she starts her sentence with, "A man once told me..."
aiman2005
Three guys and a lady were sitting at the bar talking about their professions. The first guy says, "I'm a YUPPIE. You know, young, urban, professional." The second guy says, "I'm a DINK. You know, double income, no kids." The third guy says, "I'm a RUB. You know, rich urban biker." They turn to the woman and ask, "So what are you?" The woman replies, "I'm a WIFE. You know - Wash, Iron, F***, Etc."
beautiful23
How are women and tornadoes alike? They both moan like hell when they come, and take the house when they leave.
JayDee917
A boy asks his dad, "What's the difference between potential and realistic?" The dad tells him to go ask the rest of his family if they'd sleep with Brad Pitt for a million dollars, and then he'd tell him the answer. The boy goes up to his mom and asks her. She responds, "A million dollars is a lot of money sweetheart. I could send you, your sister, and your brother to great colleges, so sure, I would!" He then goes and asks his sister to which she replies, "Brad Pitt? Hell ya, he's the hottest guy ever!" Next, the boy asks his brother who replies, "A million dollars? Hell yes I would. I'd be rich!" When the boy excitedly returns to his dad with the family's responses, the dad says, "Well son, potentially, we have three million dollars. Realistically, we have two sluts and a queer."
davey21
What is easier to pick up the heavier it gets? Women.
willy53