Categories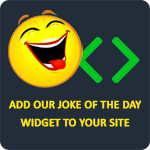 A tough looking group of hairy bikers are riding when they see a girl about to jump off a bridge, so they stop. The leader, a big burly man, gets off his bike and says, "What are you doing?" "I'm going to commit suicide," she says. While he doesn't want to appear insensitive, he also doesn't want to miss an opportunity, so he asks, "Well, before you jump, why don't you give me a kiss?" She does, and it is a long, deep, lingering kiss. After she's finished, the tough, hairy biker says, "Wow! That was the best kiss I've ever had! That's a real talent you're wasting. You could be famous. Why are you committing suicide?" "My parents don't like me dressing up like a girl…"
Anonymous
An investigative journalist went to Afghanistan to study the culture and was shocked to discover that women were made to walk ten paces behind the men. She asked her guide why and he said, "Because they are considered of lesser status." Outraged the journalist went home. A year later she returned covering violence in the region and was surprised to see the women walking ten paces ahead. She turned to her guide and this time asked, "What has changed?" The guide answered, "Land mines."
jonnyroadster
There's a new drug for lesbians on the market to cure depression, it's called Trycoxagain.
RobbieJay
Why did the women cross the road? I don't know, but what is she doing out of the kitchen?
Zesst2b
A man is sitting at a bar enjoying a cocktail when an exceptionally gorgeous, sexy, young woman enters. The man can't stop staring at her. The young woman notices this and walks directly toward him. Before he could offer his apologies for being so rude, the young woman says to him, "I'll do anything you want me to do, no matter how kinky, for $100, with one condition." Flabbergasted, the man asks what the condition is. The young woman replies, "You have to tell me what you want me to do in just three words." The man considers her proposition for a moment, withdraws his wallet from his pocket, and hands the woman five $20 bills. He looks deeply into her eyes and slowly says, "Paint my house."
Anonymous