Categories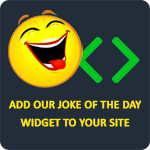 There is a cucumber, a pickle, and a penis. They are complaining about their lives. The cucumber says, "My life sucks. I'm put in salads, and to top it off, they put ranch on me as well. My life sucks." The pickle says, "That's nothing compared to my life. I'm put in vinegar and stored away. Boy my life boring. I hate life." The penis says, "Why are you guys complaining? My life is so messed up that I feel like shooting myself. They put me in a plastic bag, put me in a cave, and make me do push-ups until I throw up."
jerryfrontier07
"Babe is it in?" "Yea." "Does it hurt?" "Uh huh." "Let me put it in slowly." "It still hurts." "Okay, let's try another shoe size."
guzz
A typical macho man married a typical good looking lady, and after the wedding, he laid down the following rules. "I'll be home when I want, if I want, what time I want, and I don't expect any hassle from you. I expect a great dinner to be on the table, unless I tell you that I won't be home for dinner. I'll go hunting, fishing, boozing, and card playing when I want with my old buddies, and don't you give me a hard time about it. Those are my rules. Any comments?" His new bride said, "No, that's fine with me. Just understand that there will be sex here at seven o'clock every night, whether you're here or not."
Mariana13
A woman places an ad in the local newspaper. "Looking for a man with three qualifications: won't beat me up, won't run away from me, and is great in bed." Two days later her doorbell rings. "Hi, I'm Tim. I have no arms so I won't beat you, and no legs so I won't run away." "What makes you think you are great in bed?" the woman retorts. Tim replies, "I rang the doorbell, didn't I?"
Anonymous
Three guys go to a ski lodge, and there aren't enough rooms, so they have to share a bed. In the middle of the night, the guy on the right wakes up and says, "I had this wild, vivid dream of getting a hand job!" The guy on the left wakes up, and unbelievably, he's had the same dream, too. Then the guy in the middle wakes up and says, "That's funny, I dreamed I was skiing!"
TheLaughFactory