Categories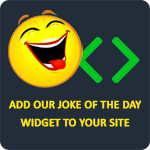 A lady goes to the doctor and complains that her husband is losing interest in sex. The doctor gives her a pill, but warns her that it's still experimental. He tells her to slip it into his mashed potatoes at dinner, so that night, she does just that. About a week later, she's back at the doctor, where she says, "Doc, the pill worked great! I put it in the potatoes like you said! It wasn't five minutes later that he jumped up, raked all the food and dishes onto the floor, grabbed me, ripped all my clothes off, and ravaged me right there on the table!" The doctor says, "I'm sorry, we didn't realize the pill was that strong! The foundation will be glad to pay for any damages." "Nah," she says, "that's okay. We're never going back to that restaurant anyway."
Mariah
Little Sally came home from school with a smile on her face, and told her mother, "Frankie Brown showed me his weenie today at the playground!" Before the mother could raise a concern, Sally went on to say, "It reminded me of a peanut." Relaxing with a hidden smile, Sally's mom asked, "Really small, was it?" Sally replied, "No, salty." Mom fainted.
ezmoney
One day, there were two boys playing by a stream. One of the young boys saw a bush and went over to it. The other boy couldn't figure out why his friend was at the bush for so long. The other boy went over to the bush and looked. The two boys were looking at a woman bathing naked in the stream. All of a sudden, the second boy took off running. The first boy couldn't understand why he ran away, so he took off after his friend. Finally, he caught up to him and asked why he ran away. The boy said to his friend, "My mom told me if I ever saw a naked lady, I would turn to stone, and I felt something getting hard, so I ran."
sponger619
Two cowboys are out on the range talking about their favorite sex position. One says, "I think I enjoy the rodeo position the best." "I don't think I have ever heard of that one," says the other cowboy. "What is it?" "Well, it's where you get your girl down on all four, and you mount her from behind. Then you reach around, cup her t*ts, and whisper in her ear, 'boy these feel almost as nice as your sisters.' Then you try and hold on for 30 seconds."
ballmyloveb
A little boy caught his mom and dad having sex. After, he asked, "What were you and daddy doing?" The mom said, "We were baking a cake." A few days later, the little boy asked his mom, "Were you and daddy baking a cake?" She said yes, and asked him how he knew. He answered, "Because I licked the frosting off the couch."
jbaby143