Categories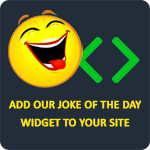 A little boy caught his mom and dad having sex. After, he asked, "What were you and daddy doing?" The mom said, "We were baking a cake." A few days later, the little boy asked his mom, "Were you and daddy baking a cake?" She said yes, and asked him how he knew. He answered, "Because I licked the frosting off the couch."
jbaby143
Sarah goes to school, and the teacher says, "Today we are going to learn multi-syllable words, class. Does anybody have an example of a multi-syllable word?" Sarah waves her hand, "Me, Miss Rogers, me, me!" Miss Rogers says, "All right, Sarah, what is your multi-syllable word?" Sarah says, "Mas-tur-bate." Miss Rogers smiles and says, "Wow, Sarah, that's a mouthful." Sarah says, "No, Miss Rogers, you're thinking of a blowjob."
Rodderiqus11
A guy walks into a pub and sees a sign hanging over the bar which reads, "Cheese Sandwich: $1.50; Chicken Sandwich: $2.50; Hand Job: $10.00." Checking his wallet for the necessary payment, he walks up to the bar and beckons to one of the three exceptionally attractive blondes serving drinks to an eager-looking group of men. "Yes?" she enquires with a knowing smile, "Can I help you?" "I was wondering," whispers the man, "Are you the one who gives the hand jobs?" "Yes," she purrs, "I am." The man replies, "Well, go wash your hands, I want a cheese sandwich!"
Tapatio1974
A trucker who has been out on the road for two months stops at a brothel outside Atlanta. He walks straight up to the Madam, drops down $500 and says, "I want your ugliest woman and a grilled cheese sandwich!" The Madam is astonished. "But sir, for that kind of money you could have one of my prettiest ladies and a three-course meal." The trucker replies, "Listen darlin', I'm not horny – I'm just homesick."
rchavez2
Two cowboys are out on the range talking about their favorite sex position. One says, "I think I enjoy the rodeo position the best." "I don't think I have ever heard of that one," says the other cowboy. "What is it?" "Well, it's where you get your girl down on all four, and you mount her from behind. Then you reach around, cup her t*ts, and whisper in her ear, 'boy these feel almost as nice as your sisters.' Then you try and hold on for 30 seconds."
ballmyloveb