Categories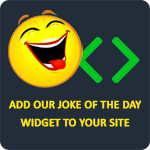 Late one night, a preacher was driving on a country road and had a wreck. A farmer stopped and said, "Sir, are you okay?" The preacher said, "Yes, I had the Lord riding with me." The farmer said, "Well, you better let him ride with me, because you're gonna kill him."
Anonymous
Two nuns were riding their bicycles down the street. The first nun says, "I've never came this way before." The second nun says, "Yeah, it's the cobblestones!"
Stevie
Four nuns are in line to go into heaven. God asks the first nun if she has ever sinned. She says, "Well, I've seen a penis." So God puts holy water on her eyes and lets her enter. He asks the second nun the same thing and she says, "I've held a penis," so he puts holy water on her hands and lets her enter. Then the fourth nun skips the third nun in line and God asks why she did that. The 4th nun replies, "Well, I need to gargle it before she sits in it."
Anonymous
Q: What's the difference between a nun and a woman in a bathtub?
A: One has hope in her soul and one has soap in her hole.
Anonymous
What is the difference between acne and a Catholic priest? Acne usually comes on a boy's face after he turns 12.
Rhyknow