Categories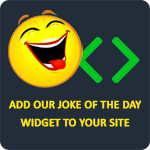 Mother superior tells two new nuns that they have to paint their room without getting any paint on their clothes. One nun suggests to the other, "Hey, let's take all our clothes off, fold them up, and lock the door." So they do this, and begin painting their room. Soon they hear a knock at the door. They ask, "Who is it?" "Blind man!" The nuns look at each other and one nun says, "He's blind, so he can't see. What could it hurt?" They let him in. The blind man walks in and says, "Hey, nice tits. Where do you want me to hang the blinds?"
Anonymous
Late one night, a preacher was driving on a country road and had a wreck. A farmer stopped and said, "Sir, are you okay?" The preacher said, "Yes, I had the Lord riding with me." The farmer said, "Well, you better let him ride with me, because you're gonna kill him."
Anonymous
Q: Why do Jewish mothers make great parole officers?
A: They never let anyone finish a sentence!
Bookworm
Every ten years, the monks in the monastery are allowed to break their vow of silence to speak two words. Ten years go by and it's one monk's first chance. He thinks for a second before saying, "Food bad." Ten years later, he says, "Bed hard." It's the big day, a decade later. He gives the head monk a long stare and says, "I quit." "I'm not surprised," the head monk says. "You've been complaining ever since you got here."
TheLaughFactory
Q: What do you call a nun in a wheelchair? A: Virgin Mobile
Anonymous