Categories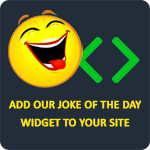 If Mary had Jesus, and Jesus is the lamb of God, does that mean Mary had a little lamb?
la awsome
A gentleman is preparing to board a plane, when he hears that the Pope is on the same flight. "This is exciting," thinks the gentleman. "Perhaps I'll be able to see him in person." Imagine his surprise when the Pope sits down in the seat next to him. Shortly after take-off, the Pope begins a crossword puzzle. Almost immediately, the Pope turns to the gentleman and says, "Excuse me, but do you know a four letter word referring to a woman that ends in 'unt?'" Only one word leaps to mind. "My goodness," thinks the gentleman, "I can't tell the Pope that. There must be another word." The gentleman thinks for quite a while, and then it hits him. Turning to the Pope, the gentleman says, "I think the word you're looking for is 'aunt.'" "Of course," says the Pope. "Do you have an eraser?"
Anonymous
A husband and wife are in church. The preacher notices that the husband has fallen asleep and says to the wife, "Wake your husband up!" The wife answers, "You're the one who made him fall asleep, you wake him up!"
Anonymous
Q: Why do Jewish mothers make great parole officers?
A: They never let anyone finish a sentence!
Bookworm
Wilson runs a nail factory and decides his business needs a bit of advertising. He has a chat with a friend who works in marketing, and he offers to make a television ad for Wilson's Nails. "Give me a week," says the friend, "and I'll be back with a tape." A week goes by and the marketing executive comes to see Wilson. He puts a cassette in the video and presses play. A Roman soldier is busy nailing Jesus to the cross. He turns to face the camera and says with a grin, "Use Wilson's Nails, they'll hold anything." Wilson goes mad, shouting, "What is the matter with you? They'll never show that on television. Give it another try, but no more Romans crucifying Jesus!" Another week goes by and the marketing man comes back to see Wilson with another tape. He puts it in the machine and hits play. This time the camera pans out from a Roman standing with his arms folded to show Jesus on the cross. The Roman looks up at him and says, "Wilson's Nails, they'll hold anything." Wilson is beside himself. "You don't understand. I don't want anything with Jesus on the cross! Now listen, I'll give you one last chance. Come back in a week with an advertisement that I can broadcast." A week passes and Wilson waits impatiently. The marketing executive arrives and puts on the new video. A naked man with long hair, gasping for breath, is running across a field. About a dozen Roman soldiers come over the hill, hot on his trail. One of them turns to the camera and says, "If only we had used Wilson's Nails!"
PerryJo