Categories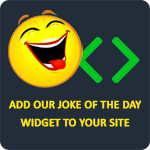 One night a lady came home from her weekly prayer meeting, found she was being robbed, and she shouted out, "Acts 2:38: 'Repent & be baptized & your sins will be forgiven.'" The robber quickly gave up & the lady rang the police. While handcuffing the criminal, a policeman said, "Gee mate, you gave up pretty easily. How come you gave up so quickly?" The robber said, "She said she had an axe and two 38's!"
Nina Jobling
A priest is sitting in a confession box and has to go to the bathroom. He calls an alter boy over and says, "I have to go pee and I need you to take over." Not knowing what to do, the alter boy asks for help. The priest says, "Just give them a few Hail Marys and send them on their way." Soon after, a blonde woman walks in the booth and says, "Forgive me father. I have committed a sin. I gave my boyfriend a blowjob." The alter boy is confused, so he asks another nearby alter boy, "What does the priest usually give for a blowjob?" The second alter boy replies, "I don't know about you, but my price is a candy bar and a Pepsi."
Hebrew Special
Three nuns are talking. The first nun says, "I was cleaning in Father's room the other day and do you know what I found? A bunch of pornographic magazines." "What did you do?" the other nun asks. "Well, of course I threw them in the trash." The second nun says, "Well, I can top that. I was in Father's room putting away the laundry and I found a bunch of condoms!" "Oh my!" gasp the other nuns. "What did you do?" they ask. "I poked holes in all of them!" she replies. The third nun faints.
Anonymous
A priest, a minister, and a rabbi want to see who's best at his job. So they each go into the woods, find a bear, and attempt to convert it. Later they get together. The priest begins: "When I found the bear, I read to him from the Catechism and sprinkled him with holy water. Next week is his first communion." "I found a bear by the stream," says the minister, "and preached God's holy word. The bear was so mesmerized that he let me baptize him." They both look down at the rabbi, who is lying on a gurney in a body cast. "Looking back," he says, "maybe I shouldn't have started with the circumcision."
TheLaughFactory
Three guys are at the gates of Heaven, and God tells them, "We have a special today! If you died a terrible death, you're in for free." So God asks the first guy his story. "I was a hard working man and a loving husband, but I began to suspect that my wife was cheating on me. One day, I called in sick to work and left for home to hide and closely watch my apartment. I saw a man go in, and I decided to wait a few minutes to catch them in the act. Then, I started banging on my door. They wouldn't open it, so I broke down the door and walked in to see my wife sitting naked, but the man wasn't in sight. I went to the balcony, where I saw a naked man hanging on the edge. I began to stomp on his hands until he fell down, but there were bushes, so I got my fridge and tossed it on him. In the process of tossing the fridge, I also fell over and died." God replies, "Wow, that's pretty bad, finding out your wife cheated and falling off your balcony. You pass." The second guy says, "God, my only crime was that I enjoyed dancing naked in my apartment while eating pickles out of the jar. I was doing just that one day, when I slipped on a pickle and fell over my balcony. Luckily, I was able to grab on to the ledge below mine. After a few minutes, a man came and I thought he was going to rescue me, but he began to stomp on my hands. I fell, but luckily, I fell into the bushes. I thought I had survived, but that man threw a fridge at me and I died!" God replies, "Wow, that's very cruel, being crushed to death." The third man says, "I died naked in a fridge."
xCarthage