Categories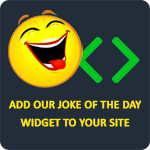 Two guys are walking through a game park & they come across a lion that has not eaten for days. The lion starts chasing the two men. They run as fast as they can and the one guy starts getting tired and decides to say a prayer, "Please turn this lion into a Christian, Lord." He looks to see if the lion is still chasing and he sees the lion on its knees. Happy to see his prayer answered, he turns around and heads towards the lion. As he comes closer to the lion, he hears the it saying a prayer: "Thank you Lord for the food I am about to receive."
Cee
A gentleman is preparing to board a plane, when he hears that the Pope is on the same flight. "This is exciting," thinks the gentleman. "Perhaps I'll be able to see him in person." Imagine his surprise when the Pope sits down in the seat next to him. Shortly after take-off, the Pope begins a crossword puzzle. Almost immediately, the Pope turns to the gentleman and says, "Excuse me, but do you know a four letter word referring to a woman that ends in 'unt?'" Only one word leaps to mind. "My goodness," thinks the gentleman, "I can't tell the Pope that. There must be another word." The gentleman thinks for quite a while, and then it hits him. Turning to the Pope, the gentleman says, "I think the word you're looking for is 'aunt.'" "Of course," says the Pope. "Do you have an eraser?"
Kung Fu Cockroach
A husband and wife are in church. The preacher notices that the husband has fallen asleep and says to the wife, "Wake your husband up!" The wife answers, "You're the one who made him fall asleep, you wake him up!"
Anonymous
Three men are traveling on a ship, when they are accosted by the Devil. The Devil proposes that if each man drops something into the sea and he cannot find it, he will be that man's slave. If the Devil does find it, however, he will eat that man up. The first man drops a pure, clear diamond, and immediately gets eaten. The second drops an expensive watch, trying to impress the Devil, and gets eaten. The third man fills a bottle with water and pours it into the sea yelling, "You think I'm a fool? Try finding that!"
chenchen69
A priest, a minister, and a rabbi want to see who's best at his job. So they each go into the woods, find a bear, and attempt to convert it. Later they get together. The priest begins: "When I found the bear, I read to him from the Catechism and sprinkled him with holy water. Next week is his first communion." "I found a bear by the stream," says the minister, "and preached God's holy word. The bear was so mesmerized that he let me baptize him." They both look down at the rabbi, who is lying on a gurney in a body cast. "Looking back," he says, "maybe I shouldn't have started with the circumcision."
TheLaughFactory