Categories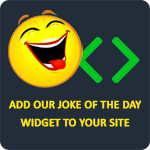 Three men are traveling on a ship, when they are accosted by the Devil. The Devil proposes that if each man drops something into the sea and he cannot find it, he will be that man's slave. If the Devil does find it, however, he will eat that man up. The first man drops a pure, clear diamond, and immediately gets eaten. The second drops an expensive watch, trying to impress the Devil, and gets eaten. The third man fills a bottle with water and pours it into the sea yelling, "You think I'm a fool? Try finding that!"
chenchen69
A Sunday school teacher asked her children on the way to service, "And why is it necessary to be quiet in church?" One little girl replied, "Because people are sleeping."
sarunnece
Three nuns are talking. The first nun says, "I was cleaning in Father's room the other day and do you know what I found? A bunch of pornographic magazines." "What did you do?" the other nun asks. "Well, of course I threw them in the trash." The second nun says, "Well, I can top that. I was in Father's room putting away the laundry and I found a bunch of condoms!" "Oh my!" gasp the other nuns. "What did you do?" they ask. "I poked holes in all of them!" she replies. The third nun faints.
Anonymous
An old man goes to a church, and is making a confession:
Man: "Father, I am 75 years old. I have been married for 50 years. All these years I had been faithful to my wife, but yesterday I was intimate with an 18 year old."
Father: "When was the last time you made a confession?"
Man: "I never have, I am Jewish."
Father: "Then why are telling me all this?"
Man: "I'm telling everybody!"
TheLaughFactory
One night a lady came home from her weekly prayer meeting, found she was being robbed, and she shouted out, "Acts 2:38: 'Repent & be baptized & your sins will be forgiven.'" The robber quickly gave up & the lady rang the police. While handcuffing the criminal, a policeman said, "Gee mate, you gave up pretty easily. How come you gave up so quickly?" The robber said, "She said she had an axe and two 38's!"
Nina Jobling