Categories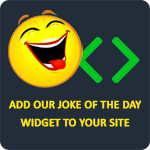 Josey wasn't the best pupil at Sunday school. She often fell asleep and one day while she was sleeping, the teacher asked her a question. "Who is the creator of the universe?" Joe was sitting next to Josey and decided to poke her with a pin to wake her up. Josey jumped and yelled, "God almighty!" The teacher congratulated her. A little later the teacher asked her another question, "Tell me who is our lord and savior?" Joe poked Josey again and she yelled out, "Jesus Christ!" The teacher congratulated her again. Later on the teacher asked, "What did Eve say to Adam after their 26th child?" Joe poked Josey again and she shouted, "If you stick that thing in me again, I'll snap it in half and stick it up your ass!"
I\\\'m hilarious
Three men are traveling on a ship, when they are accosted by the Devil. The Devil proposes that if each man drops something into the sea and he cannot find it, he will be that man's slave. If the Devil does find it, however, he will eat that man up. The first man drops a pure, clear diamond, and immediately gets eaten. The second drops an expensive watch, trying to impress the Devil, and gets eaten. The third man fills a bottle with water and pours it into the sea yelling, "You think I'm a fool? Try finding that!"
chenchen69
A Sunday school teacher asked her children on the way to service, "And why is it necessary to be quiet in church?" One little girl replied, "Because people are sleeping."
sarunnece
On their way to get married, a young Catholic couple is involved in a fatal car accident. The couple found themselves sitting outside the Pearly Gates waiting for St. Peter to process them into Heaven. While waiting, they began to wonder: Could they possibly get married in Heaven? When St. Peter showed up, they asked him. St. Peter said, "I don't know. This is the first time anyone has asked. Let me go find out,'" and he left. The couple sat and waited, and waited. Two months passed and the couple were still waiting. While waiting, they began to wonder what would happen if it didn't work out; could you get a divorce in heaven? After yet another month, St. Peter finally returned, looking somewhat bedraggled. "Yes," he informed the couple, "You can get married in Heaven." "Great!" said the couple, "But we were just wondering, what if things don't work out? Could we also get a divorce in Heaven?" St. Peter, red-faced with anger, slammed his clipboard onto the ground. "What's wrong?" asked the frightened couple. "OH, COME ON!," St. Peter shouted, "It took me three months to find a priest up here! Do you have any idea how long it'll take me to find a lawyer?"
E
Three nuns are talking. The first nun says, "I was cleaning in Father's room the other day and do you know what I found? A bunch of pornographic magazines." "What did you do?" the other nun asks. "Well, of course I threw them in the trash." The second nun says, "Well, I can top that. I was in Father's room putting away the laundry and I found a bunch of condoms!" "Oh my!" gasp the other nuns. "What did you do?" they ask. "I poked holes in all of them!" she replies. The third nun faints.
Anonymous