Categories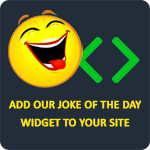 Josey wasn't the best pupil at Sunday school. She often fell asleep and one day while she was sleeping, the teacher asked her a question. "Who is the creator of the universe?" Joe was sitting next to Josey and decided to poke her with a pin to wake her up. Josey jumped and yelled, "God almighty!" The teacher congratulated her. A little later the teacher asked her another question, "Tell me who is our lord and savior?" Joe poked Josey again and she yelled out, "Jesus Christ!" The teacher congratulated her again. Later on the teacher asked, "What did Eve say to Adam after their 26th child?" Joe poked Josey again and she shouted, "If you stick that thing in me again, I'll snap it in half and stick it up your ass!"
I\\\'m hilarious
Three men are traveling on a ship, when they are accosted by the Devil. The Devil proposes that if each man drops something into the sea and he cannot find it, he will be that man's slave. If the Devil does find it, however, he will eat that man up. The first man drops a pure, clear diamond, and immediately gets eaten. The second drops an expensive watch, trying to impress the Devil, and gets eaten. The third man fills a bottle with water and pours it into the sea yelling, "You think I'm a fool? Try finding that!"
chenchen69
A Sunday school teacher asked her children on the way to service, "And why is it necessary to be quiet in church?" One little girl replied, "Because people are sleeping."
sarunnece
Three nuns are talking. The first nun says, "I was cleaning in Father's room the other day and do you know what I found? A bunch of pornographic magazines." "What did you do?" the other nun asks. "Well, of course I threw them in the trash." The second nun says, "Well, I can top that. I was in Father's room putting away the laundry and I found a bunch of condoms!" "Oh my!" gasp the other nuns. "What did you do?" they ask. "I poked holes in all of them!" she replies. The third nun faints.
Anonymous
Three guys are at the gates of Heaven, and God tells them, "We have a special today! If you died a terrible death, you're in for free." So God asks the first guy his story. "I was a hard working man and a loving husband, but I began to suspect that my wife was cheating on me. One day, I called in sick to work and left for home to hide and closely watch my apartment. I saw a man go in, and I decided to wait a few minutes to catch them in the act. Then, I started banging on my door. They wouldn't open it, so I broke down the door and walked in to see my wife sitting naked, but the man wasn't in sight. I went to the balcony, where I saw a naked man hanging on the edge. I began to stomp on his hands until he fell down, but there were bushes, so I got my fridge and tossed it on him. In the process of tossing the fridge, I also fell over and died." God replies, "Wow, that's pretty bad, finding out your wife cheated and falling off your balcony. You pass." The second guy says, "God, my only crime was that I enjoyed dancing naked in my apartment while eating pickles out of the jar. I was doing just that one day, when I slipped on a pickle and fell over my balcony. Luckily, I was able to grab on to the ledge below mine. After a few minutes, a man came and I thought he was going to rescue me, but he began to stomp on my hands. I fell, but luckily, I fell into the bushes. I thought I had survived, but that man threw a fridge at me and I died!" God replies, "Wow, that's very cruel, being crushed to death." The third man says, "I died naked in a fridge."
xCarthage