Categories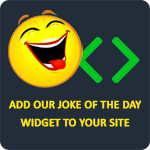 A woman was nagging her husband to cut the grass, to which the husband answered, "What do I look like to you? A landscaper?!" Next time the sink was dripping, she asked him again, "Honey, can you fix the faucet?" The husband replied, "What do I look like to you? A Plumber?!" Two days later, a light bulb went out and she begged him again, "Honey, can you change the light bulb?" His reply was, "What am I? An electrician?!" A few days later, the husband comes home from work to find that the lawn is cut, the faucet is fixed, the light bulb is changed. Very surprised, he says, "Honey, what happened here?" The wife replies, "You know our new next door neighbor? He came over and fixed everything." The husband says, "Honey, how did you pay him?!" "Oh, you know," the wife says, "he told me that I could either bake him a cake or have sex with him." Somewhat relieved the husband asks, "Whew, so what kind of a cake did you bake for him?" The wife replies, "Who do you think I am? Betty Crocker?!"
robrob13
A man and a woman are sleeping together when suddenly there is a noise in the house, and the woman rolls over and says, "It's my husband, you have to leave!" The man jumps out of bed, jumps through the window, crawls through the bushes, and out on the street, when he realizes something. He goes back to the house and says to the woman, "Wait, I'm your husband!" She replies giving him a dirty look, "So why did you run?"
swtangie5
A husband asks his wife, "Will you marry after I die?" The wife responds, "No, I will live with my sister." The wife asks him back, "Will you marry after I die?" The husband responds, "No, I will also live with your sister."
joker
One day, a man came home and was greeted by his wife dressed in stunningly sexy lingerie. "Tie me up," she purred, "And you can do anything you want." So he tied her up and went golfing.
Zinga
Wife: "Our new neighbor always kisses his wife when he leaves for work. Why don't you do that?"
Husband: "How can I? I don't even know her."
Anonymous