Categories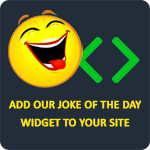 A wife says, "Hey! Look at that funny guy whose been drinking a lot." The husband responds, "Who is he?" The wife answers, "Well, five years ago, he was my boyfriend and I denied him for marriage." "Oh my God! He's still celebrating his freedom!" says the husband.
aksoyozgur
If you want to know who is really man's best friend, put your dog and your wife in the trunk of your car, come back an hour later, open the trunk, and see which one is happy to see you.
Anonymous
I married Miss Right. I just didn't know her first name was Always.
LaughFactory
A young man looking to get married asked his friend. "Every woman I bring home to meet my parents, my mother doesn't like." "Oh, that's easy," his pal replied, "All you have to do is find someone who is just like your mother." "I did that already," he said, "and that one my father didn't like."
sadaf85
A farmer walks into his bedroom carrying a lamb under his arm. He walks over to his wife who's laying in bed. "See!" he yells, "This is the pig I have to have sex with whenever you get one of your headaches!" The wife says, "You know that's a lamb under your arm, don't you?" The farmer says, "I wasn't talking to you."
Anonymous