Categories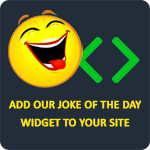 A bus full of housewives going on a picnic crashed with no survivors. Each husband cried for a week, but one husband continued for more than two weeks. When asked he replied miserably, "My wife missed the bus."
TheLaughFactory
A husband asks his wife, "Will you marry after I die?" The wife responds, "No, I will live with my sister." The wife asks him back, "Will you marry after I die?" The husband responds, "No, I will also live with your sister."
joker
A man and a woman are sleeping together when suddenly there is a noise in the house, and the woman rolls over and says, "It's my husband, you have to leave!" The man jumps out of bed, jumps through the window, crawls through the bushes, and out on the street, when he realizes something. He goes back to the house and says to the woman, "Wait, I'm your husband!" She replies giving him a dirty look, "So why did you run?"
swtangie5
Wife: "Our new neighbor always kisses his wife when he leaves for work. Why don't you do that?"
Husband: "How can I? I don't even know her."
Anonymous
Man: "Wanna hear a joke about my penis? Oh never mind, it's too long."
Woman: "Want to hear a joke about my vagina? Never mind, you'll never get it."
Yo mamma