Categories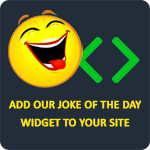 A couple drives to the hospital because the wife is in labor. The doctor alerts them that she invented a machine that will transfer some of the labor pain to the father, if they'd like. The husband eagerly says, "Give it all to me!" The couple returns home with a bouncing baby boy, only to find the mailman dead on their lawn.
pattyvasquez
A bus full of housewives going on a picnic crashed with no survivors. Each husband cried for a week, but one husband continued for more than two weeks. When asked he replied miserably, "My wife missed the bus."
TheLaughFactory
A man and a woman have just had their 50th wedding anniversary. The husband turns to his wife and asks, "What do you want to do to celebrate our anniversary dear?" She replies, "Let's run upstairs and make love." He turns to her and says, "Well make up your mind, we can't do both!"
fieldfam
Bernie was invited to his friend's home for dinner. Morris, the host, preceded every request to his wife by endearing terms, calling her Honey, My Love, Darling, Sweetheart, Pumpkin, etc. Bernie looked at Morris and remarked, "That's really nice, that after all these years that you have been married, you keep calling your wife those pet names." Morris hung his head and whispered, "To tell you the truth, I forgot her name three years ago!"
lesliekimm
There are three women. One is dating, one is engaged, and one is married. They decide to get kinky with their men and really pull out all the stops to make it extra special. The woman who is dating says, "Okay, so I bought black leather, red lipstick, fishnet stockings, and really got crazy. He loved it so much he thinks he's in love." The woman who is engaged says, "I showed up to his work after hours wearing only a red coat. Let's just say he wants to move the wedding date up!" The woman who is married says, "Okay, I really went all out. I got a babysitter for the kids, and bought a black mask and a whip. My husband gets home, goes straight to the fridge, and grabs a beer. Then he plops down on the couch and says, 'Hey Batman! Where the f*ck is dinner?!?'"
mgrove0328