Categories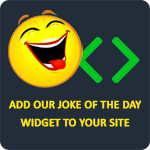 A man and a woman are sleeping together when suddenly there is a noise in the house, and the woman rolls over and says, "It's my husband, you have to leave!" The man jumps out of bed, jumps through the window, crawls through the bushes, and out on the street, when he realizes something. He goes back to the house and says to the woman, "Wait, I'm your husband!" She replies giving him a dirty look, "So why did you run?"
swtangie5
An explorer goes into an undiscovered tomb for the first time, and in the center of the tomb there's a lamp. He picks it up, and as he starts to rub the dirt off of it, a genie comes out of the lamp and says, "I want to know the person you hate the most." The explorer says, "That's gotta be my ex-wife. Why?" "I am a cursed genie. I will grant you three wishes, but whatever you wish for, your ex-wife will get double that amount." "Okay, I wish for a billion dollars." "Granted, but you ex-wife gets two billion dollars." "I wish for a mansion in California with a swimming pool, and tennis courts, everything." "Granted, and your ex-wife gets two." "Now make your final wish." The explorer walks around for a few minutes, returns to the genie with a stick, and says, "You see this stick? I'd like you to beat me half to death."
Anonymous
A married couple are out one night at a dance club. There's a guy on the dance floor giving it large: break dancing, moon walking, back flips, the works. The wife turns to her husband and says, "See that guy? Twenty years ago he proposed to me and I turned him down." The husband says, "Looks like he's still celebrating!"
Penelope Snyder
During the wedding rehearsal, the groom approaches the pastor with an unusual offer. "Look, I'll give you $100 if you'll change the wedding vows. When you get to the part where I'm supposed to promise to 'love, honor, and obey' and 'be faithful to her forever,' I'd appreciate it if you'd just leave that out." He passes the minister a $100 bill and walks away satisfied. On the day of the wedding, when it comes time for the groom's vows, the pastor looks the young man in the eye and says, "Will you promise to prostrate yourself before her, obey her every command and wish, serve her breakfast in bed every morning of your life, and swear eternally before God and your lovely wife that you will not ever even look at another woman, as long as you both shall live?" The groom gulps, looks around, and says in a tiny voice, "Yes," then leans toward the pastor and hisses, "I thought we had a deal." The pastor puts a $100 bill into the groom's hand and whispers, "She made me a better offer."
Basala
A husband, who has six children, begins to call his wife "mother of six" rather than by her first name. The wife, amused at first, chuckles. A few years down the road, the wife has grown tired of this. "Mother of six," he would say, "what's for dinner tonight? Get me a beer!" She gets very frustrated. Finally, while attending a party with her husband, he jokingly yells out, "Mother of six, I think it's time to go!" The wife immediately shouts back, "I'll be right with you, father of four!"
Anonymous