Categories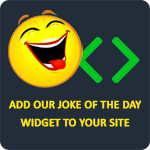 A police officer attempts to stop a car for speeding and the guy gradually increases his speed until he's topping 100 mph. The man eventually realizes he can't escape and finally pulls over. The cop approaches the car and says, "It's been a long day and my shift is almost over, so if you can give me a good excuse for your behavior, I'll let you go." The guy thinks for a few seconds and then says, "My wife ran away with a cop about a week ago. I thought you might be that officer trying to give her back!"
James Harris
Girlfriend: "Am I pretty or ugly?"
Boyfriend: "You're both."
Girlfriend: "What do you mean?"
Boyfriend: "You're pretty ugly."
squatter dude
Q: Is Google male or female?
A: Female, because it doesn't let you finish a sentence before making a suggestion.
Montgomery2004
A man approached a very beautiful woman in a large supermarket and said, "I've lost my wife here in the supermarket. Can you talk to me for a couple of minutes?" "Why do you want to talk to me?" she asked puzzled. "Because every time I talk to a beautiful woman, my wife appears out of nowhere."
penehoff
An explorer goes into an undiscovered tomb for the first time, and in the center of the tomb there's a lamp. He picks it up, and as he starts to rub the dirt off of it, a genie comes out of the lamp and says, "I want to know the person you hate the most." The explorer says, "That's gotta be my ex-wife. Why?" "I am a cursed genie. I will grant you three wishes, but whatever you wish for, your ex-wife will get double that amount." "Okay, I wish for a billion dollars." "Granted, but you ex-wife gets two billion dollars." "I wish for a mansion in California with a swimming pool, and tennis courts, everything." "Granted, and your ex-wife gets two." "Now make your final wish." The explorer walks around for a few minutes, returns to the genie with a stick, and says, "You see this stick? I'd like you to beat me half to death."
Anonymous