Categories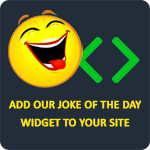 Q: Why didn't the man report his stolen credit card?
A: The thief was spending less then his wife.
TheLaughFactory
Man: Your place or mine?
Woman: Both. You go to yours and I'll go to mine.
LaughFactory
A man walks into a bar and orders a shot, then he looks into his shirt pocket and orders another one. After he finishes, he looks into his pocket again and orders another shot. The bartender is curious and asks the man why he looks into his pocket before ordering each shot. The man replies, "I have a picture of my wife in my pocket, and when she starts to look good, I go home."
aussieange
A funeral service was being held for a young woman who had just passed away. As the pallbearers carried the casket out, they accidentally bumped into a wall. They heard a faint moan come from inside the casket. They opened the casket and found that the woman was still alive! She went on to live 10 more years and then died, and they held another funeral for her. While the pallbearers were carrying her out, her husband yelled, "Watch out for that wall!"
sweetbutter
A man drinks a shot of whiskey every night before bed. After years of this, the wife wants him to quit. She gets two shot glasses, fills one with water and the other with whiskey. After bringing him to the table that has the glasses, she brings his bait box. She says, "I want you to see this." She puts a worm in the water, and it swims around. She puts a worm in the whiskey, and the worm dies immediately. She then says, feeling that she has made her point clear, "What do you have to say about this experiment?" He responds by saying, "If I drink whiskey, I won't get worms!"
Viva173