Categories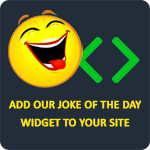 A man asks his wife, "What would you do if I won the lottery?" His wife says, "Take half and leave your ass!" The man replies, "Great! I won 12 bucks, here is six, now get out!"
Anonymous
Bernie was invited to his friend's home for dinner. Morris, the host, preceded every request to his wife by endearing terms, calling her Honey, My Love, Darling, Sweetheart, Pumpkin, etc. Bernie looked at Morris and remarked, "That's really nice, that after all these years that you have been married, you keep calling your wife those pet names." Morris hung his head and whispered, "To tell you the truth, I forgot her name three years ago!"
lesliekimm
A couple drives to the hospital because the wife is in labor. The doctor alerts them that she invented a machine that will transfer some of the labor pain to the father, if they'd like. The husband eagerly says, "Give it all to me!" The couple returns home with a bouncing baby boy, only to find the mailman dead on their lawn.
pattyvasquez
A man is about to enter a meeting at work when he realizes that he forgot some important paperwork. He calls home so that his wife can retrieve them. The maid answers the phone and says that his wife is busy. He demands that the maid put his wife on the phone. The maid informs the man that his wife is in bed with the gardener. The man goes nuts, and offers the maid one million dollars to shoot them both. The maid agrees and he soon hears two gunshots. The maid returns to the phone and he asks her what happened. The maid says she shot his wife in bed and the gardener ran, so she shot him by the pool. The man says, "Pool??? Is this 555-4320???"
TheBaddboy
Roger is a hard worker, and he spends most of his nights bowling or playing volleyball. One weekend, his wife decides that he needs to relax a little and take a break from sports, so she takes him to a strip club. The doorman at the club spots them and says "Hey Roger! How are you tonight?" His wife, surprised, asks her husband if he has been here before. "No, no. He's just one of the guys I bowl with." They are seated, and the waitress approaches, sees Roger and says "Nice to see you, Roger. A gin and tonic as usual?" His wife's eyes widen. "You must come here a lot!" "No, no" says Roger "I just know her from volleyball." Then a stripper walks up to the table. She throws her arms around Roger and says "Roger! A table dance as usual?" His wife, fuming, collects her things and storms out of the bar. Roger follows her and spots her getting into a cab, so he jumps into the passenger seat. His wife looks at him, seething with fury and flips out on Roger. Just then, the cabby leans over and says "Sure looks like you picked up a bitch tonight, Roger!"
daniel844533