Categories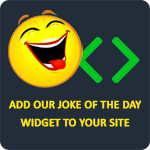 A bus full of housewives going on a picnic crashed with no survivors. Each husband cried for a week, but one husband continued for more than two weeks. When asked he replied miserably, "My wife missed the bus."
TheLaughFactory
A man and a woman are sleeping together when suddenly there is a noise in the house, and the woman rolls over and says, "It's my husband, you have to leave!" The man jumps out of bed, jumps through the window, crawls through the bushes, and out on the street, when he realizes something. He goes back to the house and says to the woman, "Wait, I'm your husband!" She replies giving him a dirty look, "So why did you run?"
swtangie5
A wife comes home late one night and quietly opens the door to her bedroom. From under the blanket, she sees four legs instead of just her husband's two. She reaches for a baseball bat and starts hitting the blanket as hard as she can. Once she's done, she goes to the kitchen to have a drink. As she enters, she sees her husband there, reading a magazine. He says, "Hi darling, your parents have come to visit us, so let them stay in our bedroom. Did you say hello?"
Eddie k
Wife: "Our new neighbor always kisses his wife when he leaves for work. Why don't you do that?"
Husband: "How can I? I don't even know her."
Anonymous
A married man was having an affair with his secretary. One day, their passions overcame them in the office and they took off for her house. Exhausted from the afternoon's activities, they fell asleep and awoke at around 8 p.m. As the man threw on his clothes, he told the woman to take his shoes outside and rub them through the grass and dirt. Confused, she nonetheless complied and he slipped into his shoes and drove home. "Where have you been?" demanded his wife when he entered the house. "Darling," replied the man, "I can't lie to you. I've been having an affair with my secretary. I fell asleep in her bed and didn't wake up until eight o'clock." The wife glanced down at his shoes and said, "You liar! You've been playing golf!"
Anonymous