Categories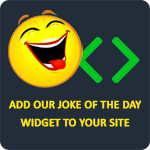 A man asks his wife, "What would you do if I won the lottery?" His wife says, "Take half and leave your ass!" The man replies, "Great! I won 12 bucks, here is six, now get out!"
Anonymous
Man: Your place or mine?
Woman: Both. You go to yours and I'll go to mine.
LaughFactory
An explorer goes into an undiscovered tomb for the first time, and in the center of the tomb there's a lamp. He picks it up, and as he starts to rub the dirt off of it, a genie comes out of the lamp and says, "I want to know the person you hate the most." The explorer says, "That's gotta be my ex-wife. Why?" "I am a cursed genie. I will grant you three wishes, but whatever you wish for, your ex-wife will get double that amount." "Okay, I wish for a billion dollars." "Granted, but you ex-wife gets two billion dollars." "I wish for a mansion in California with a swimming pool, and tennis courts, everything." "Granted, and your ex-wife gets two." "Now make your final wish." The explorer walks around for a few minutes, returns to the genie with a stick, and says, "You see this stick? I'd like you to beat me half to death."
Anonymous
A man drinks a shot of whiskey every night before bed. After years of this, the wife wants him to quit. She gets two shot glasses, fills one with water and the other with whiskey. After bringing him to the table that has the glasses, she brings his bait box. She says, "I want you to see this." She puts a worm in the water, and it swims around. She puts a worm in the whiskey, and the worm dies immediately. She then says, feeling that she has made her point clear, "What do you have to say about this experiment?" He responds by saying, "If I drink whiskey, I won't get worms!"
Viva173
Marriage is a 3-ring circus: engagement ring, wedding ring, and suffering.
TheLaughFactory