Categories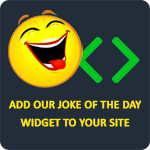 During the wedding rehearsal, the groom approaches the pastor with an unusual offer. "Look, I'll give you $100 if you'll change the wedding vows. When you get to the part where I'm supposed to promise to 'love, honor, and obey' and 'be faithful to her forever,' I'd appreciate it if you'd just leave that out." He passes the minister a $100 bill and walks away satisfied. On the day of the wedding, when it comes time for the groom's vows, the pastor looks the young man in the eye and says, "Will you promise to prostrate yourself before her, obey her every command and wish, serve her breakfast in bed every morning of your life, and swear eternally before God and your lovely wife that you will not ever even look at another woman, as long as you both shall live?" The groom gulps, looks around, and says in a tiny voice, "Yes," then leans toward the pastor and hisses, "I thought we had a deal." The pastor puts a $100 bill into the groom's hand and whispers, "She made me a better offer."
Basala
A woman was nagging her husband to cut the grass, to which the husband answered, "What do I look like to you? A landscaper?!" Next time the sink was dripping, she asked him again, "Honey, can you fix the faucet?" The husband replied, "What do I look like to you? A Plumber?!" Two days later, a light bulb went out and she begged him again, "Honey, can you change the light bulb?" His reply was, "What am I? An electrician?!" A few days later, the husband comes home from work to find that the lawn is cut, the faucet is fixed, the light bulb is changed. Very surprised, he says, "Honey, what happened here?" The wife replies, "You know our new next door neighbor? He came over and fixed everything." The husband says, "Honey, how did you pay him?!" "Oh, you know," the wife says, "he told me that I could either bake him a cake or have sex with him." Somewhat relieved the husband asks, "Whew, so what kind of a cake did you bake for him?" The wife replies, "Who do you think I am? Betty Crocker?!"
robrob13
A bus full of housewives going on a picnic crashed with no survivors. Each husband cried for a week, but one husband continued for more than two weeks. When asked he replied miserably, "My wife missed the bus."
TheLaughFactory
Wife: "Our new neighbor always kisses his wife when he leaves for work. Why don't you do that?"
Husband: "How can I? I don't even know her."
Anonymous
A man and a woman are sleeping together when suddenly there is a noise in the house, and the woman rolls over and says, "It's my husband, you have to leave!" The man jumps out of bed, jumps through the window, crawls through the bushes, and out on the street, when he realizes something. He goes back to the house and says to the woman, "Wait, I'm your husband!" She replies giving him a dirty look, "So why did you run?"
swtangie5