Categories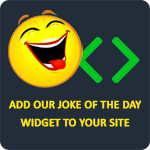 A man asks his wife, "What would you do if I won the lottery?" His wife says, "Take half and leave your ass!" The man replies, "Great! I won 12 bucks, here is six, now get out!"
Anonymous
A wife asked her husband, "Honey, will you still love me when I am old and overweight?" The man replied, "Yes, I do."
Anonymous
Q: Why didn't the man report his stolen credit card?
A: The thief was spending less then his wife.
TheLaughFactory
Man: Your place or mine?
Woman: Both. You go to yours and I'll go to mine.
LaughFactory
A man walks into a bar and orders a shot, then he looks into his shirt pocket and orders another one. After he finishes, he looks into his pocket again and orders another shot. The bartender is curious and asks the man why he looks into his pocket before ordering each shot. The man replies, "I have a picture of my wife in my pocket, and when she starts to look good, I go home."
aussieange