Categories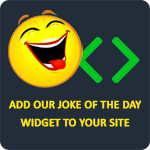 Q: How many Mexicans does it take to change a lightbulb?
A: Just Juan.
Anonymous
A cowboy walks into a bar, sits down, and asks for a shot. Across the bar, a Mexican man is sitting and glaring at the cowboy. The cowboy takes the shot and slams the shot glass down on the counter, yelling, "TGIF!" The Mexican orders a shot, takes it, and slams his glass down, yelling, "SPIT!" The cowboy looks over at him and notices the Mexican guy is still staring at him. The cowboy once again orders a shot, slams it down, and yells again "TGIF!" Once again, the Mexican orders a shot, slams it down after consuming it, and yells out, "SPIT!" This goes on for a while, and the bartender stands puzzled and annoyed. Finally, the bartender asks the cowboy, "Just checking, but do you know what TGIF means?" and the cowboy replies, "Hell ya I know what it means, 'Thank God It's Friday!'" The bartender asks the Mexican guy, "Okay, so what does 'SPIT' mean?" and the Mexican replies, "Stupid Pendejo It's Thursday!"
raulg
How do you get the little black kids to stop jumping on the bed? Put Velcro on the ceiling. How do you get them down? Tell the Mexican kids it's a piñata.
b_demarco
There was a redneckwho hit every black man he saw with his truck. One day he saw a priest walking down the road and thought, "For all the bad things I done, let me give this priest a ride." So he picked the priest up and they drove along. The redneck saw a black guy down the road and decided he would pretend to fall asleep and so the priest would think it was an accident. The redneck closed his eyes and heard a loud bang. "What happened?" he asked. "You missed him," the priest said, "but I got him with the door."
Anonymous
What do you call a black pilot flying a plane? A pilot, you racist.
tmceachern28