Categories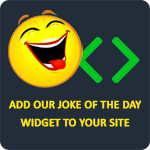 A husband and wife are trying to set up a new password for their computer. The husband puts, "Mypenis," and the wife falls on the ground laughing because on the screen it says, "Error. Not long enough."
Jilbo
Wife: "How would you describe me?"
Husband: "ABCDEFGHIJK."
Wife: "What does that mean?"
Husband: "Adorable, beautiful, cute, delightful, elegant, fashionable, gorgeous, and hot."
Wife: "Aw, thank you, but what about IJK?"
Husband: "I'm just kidding!"
tiya
The teacher asked Jimmy, "Why is your cat at school today Jimmy?" Jimmy replied crying, "Because I heard my daddy tell my mommy, 'I am going to eat that p*ssy once Jimmy leaves for school today!'"
elainekill
Teacher: "Kids,what does the chicken give you?"
Student: "Meat!"
Teacher: "Very good! Now what does the pig give you?"
Student: "Bacon!"
Teacher: "Great! And what does the fat cow give you?"
Student: "Homework!"
Anonymous
A woman goes to her boyfriend's parents' house for dinner. This is her first time meeting the family and she is very nervous. They all sit down and begin eating a fine meal. The woman is beginning to feel a little discomfort, thanks to her nervousness and the broccoli casserole. The gas pains are almost making her eyes water. Left with no other choice, she decides to relieve herself a bit and lets out a dainty little fart. It wasn't loud, but everyone at the table heard the poot. Before she even had a chance to be embarrassed, her boyfriend's father looked over at the dog that had been snoozing at the women's feet, and said in a rather stern voice, "Ginger!" The woman thought, "This is great!" and a big smile came across her face. A couple minutes later, she was beginning to feel the pain again. This time, she didn't hesitate. She let a much louder and longer fart rip. The father again looked at the dog and yelled, "Dammit, Ginger!" Once again the woman smiled and thought, "Yes!" A few minutes later the woman had to let another one rip. This time she didn't even think about it. She let rip a fart that rivaled a train whistle blowing. Again, the father looked at the dog with disgust and yelled, "Dammit, Ginger, get away from her before she shits on you!"
Legolas