Categories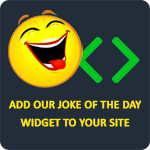 Q: What do you call 5 gay guys walking straight?
A: One Direction.
Kevan34
The energizer bunny was arrested on a charge of battery.
Silenxio Maximeaning Ultimious
Why did Mickey Mouse go to space? To visit Pluto.
panorama14
Q: What is Rodney King's least favorite band?
A: The Police.
Anonymous
Tiger Woods plays 18 holes. Both on and off the golf course.
jdg62