Categories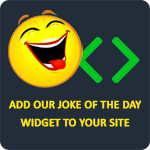 Chuck Norris pulled the pin in a grenade, threw it, killed 50 men, and then the grenade exploded.
Enid
Q: What do you call an ocean voyage where everyone stays in the closet?
A: A Tom Cruise.
Anonymous
Q: Why did Adele cross the road?
A: To sing, "Hello from the other side!"
SOME DUDE
Yo mamma is so old she knew Burger King when he was a prince.
Anonymous
I left my Adderall in my Ford Fiesta, now it's a Ford Focus.
Bob