Categories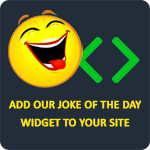 "Burt Reynolds once asked me out. I was in his room." — Phyllis Diller
Anonymous
Did you hear about Whitney Houston's funeral? The line leading to the coffin stretched into the street. A few people showed up too.
Lefty
Curiosity killed the cat. Michael Vick killed the dog.
Karmakameleeon
How do you find Ronald McDonald at a nude beach? You look for the sesame seed buns!
turtle91
I asked my three year old grandson Malachi what his name was, he replied, "Spiderman." I said, "Malachi, what is your real name?" He replied, "Peter Parker."
dwaynereed32