Categories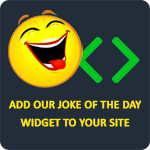 How do you wake up Lady Gaga? Poke'r Face.
alzada
Q: How do you turn a duck into a soul singer?
A: Put it in the microwave until it's Bill Withers.
iwe
Why did the rapper carry an umbrella?



Fo' drizzle.
damngoditpizza
Knock, knock.
Who's there?
Joanna.
Joanna who?
Joanna build a snowman?
Melzinger
Q: What is Rodney King's least favorite band?
A: The Police.
Anonymous