Categories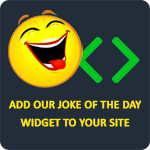 The New Jersey 'Tanning Mom' has recently create a doll and called it the 'Tanorexia' doll. The doll was so ugly, it turned Ken gay.
aperkins
Q: What is Rodney King's least favorite band?
A: The Police.
Anonymous
Q: Why did Mickey Mouse get shot?
A: Because Donald ducked!
Racal
I hear OJ Simpson is working on a stand up act in jail, apparently he kills everytime.
TrentMabry
Knock, knock.
Who's there?
Joanna.
Joanna who?
Joanna build a snowman?
Melzinger