Categories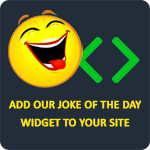 Q: Do you know who was the first black guy to admit he is the father?
A: Darth Vader.
Gabe Neaveill
Q: What do you call an deep sea Transformer?
A: Octopus Prime!
Silly joker
Q: What is Rodney King's least favorite band?
A: The Police.
Anonymous
Q: What do you call 5 gay guys walking straight?
A: One Direction.
Kevan34
Knock, knock.
Who's there?
Joanna.
Joanna who?
Joanna build a snowman?
Melzinger