Categories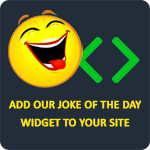 Yo mama is so fat when Jabba's guard pushed her into the sarlacc pit, it choked to death.
Anonymous
Q: Why did Captain Kirk go in to the ladies room?
A: Because he wanted to go where no man had gone before.
Anonymous
The energizer bunny was arrested on a charge of battery.
Silenxio Maximeaning Ultimious
Elton John used to work at the sperm bank, but he was fired for drinking on the job.
Anonymous
Q: Do you know who was the first black guy to admit he is the father?
A: Darth Vader.
Gabe Neaveill