Categories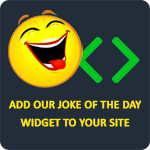 Dear NASA, Your mom thought I was big enough. - Pluto
Anonymous
How much coke has Charlie Sheen snorted? Enough to kill two and a half men.
yseidy
Q: What do you call an ocean voyage where everyone stays in the closet?
A: A Tom Cruise.
Anonymous
Yo mama so ugly the Terminator said, "I won't be back."
tonyswag
I left my Adderall in my Ford Fiesta, now it's a Ford Focus.
Bob