Categories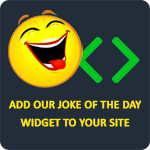 Dear NASA, Your mom thought I was big enough. - Pluto
Anonymous
Q: What did the Black Eyed Peas do at Wiz Khalifa's costume party?
A: They dressed up in black and yellow, black and yellow, and said, "I'm a bee, I'm a bee, I'm a I'm a I'm a bee!"
Anonymous
Q: Why did Adele cross the road?
A: To sing, "Hello from the other side!"
SOME DUDE
Yo mama so ugly the Terminator said, "I won't be back."
tonyswag
How much coke has Charlie Sheen snorted? Enough to kill two and a half men.
yseidy