Categories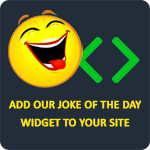 Yo mama so ugly the Terminator said, "I won't be back."
tonyswag
Q: What do you call 5 gay guys walking straight?
A: One Direction.
Kevan34
Chuck Norris once ate a whole cake before his friends could tell him there was a stripper in it.
vinhx408
Q: What do you call an deep sea Transformer?
A: Octopus Prime!
Silly joker
Tiger Woods plays 18 holes. Both on and off the golf course.
jdg62