Categories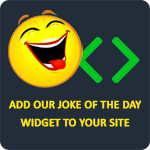 Yo mama is so fat when Jabba's guard pushed her into the sarlacc pit, it choked to death.
Anonymous
Elton John used to work at the sperm bank, but he was fired for drinking on the job.
Anonymous
Q: Why did Captain Kirk go in to the ladies room?
A: Because he wanted to go where no man had gone before.
Anonymous
Q: Why did Miley and Liam break up?
A: It just wasn't twerking.
Anonymous
Q: What do you call an deep sea Transformer?
A: Octopus Prime!
Silly joker