Categories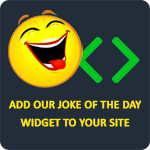 What do Michael Jackson and caviar have in common? They both come on little white crackers.
chefawkes
Chuck Norris once ate a whole cake before his friends could tell him there was a stripper in it.
vinhx408
I wonder what Edward Scissorhands thinks of touchscreen technology.
latinopunk91
I hear OJ Simpson is working on a stand up act in jail, apparently he kills everytime.
TrentMabry
Q: What do you call 5 gay guys walking straight?
A: One Direction.
Kevan34