Categories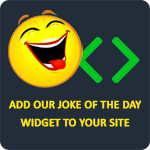 Q: What do you call 5 gay guys walking straight?
A: One Direction.
Kevan34
Tiger Woods plays 18 holes. Both on and off the golf course.
jdg62
It's a little unfair that Mike Vick is looked down upon for dog fighting, and The Mario Bros. are celebrated from taking mushrooms and turtle bashing.
sosofino
Why did Mickey Mouse go to space? To visit Pluto.
panorama14
Dear NASA, Your mom thought I was big enough. - Pluto
Anonymous