Categories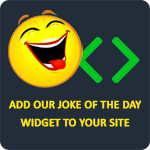 Why did the rapper carry an umbrella?



Fo' drizzle.
damngoditpizza
Why did Mickey Mouse go to space? To visit Pluto.
panorama14
I asked my three year old grandson Malachi what his name was, he replied, "Spiderman." I said, "Malachi, what is your real name?" He replied, "Peter Parker."
dwaynereed32
Q: What do you call 5 gay guys walking straight?
A: One Direction.
Kevan34
Q: Why don't Batman and Robin go fishing?

A: Because Robin eats all the worms.
My English teacher