Categories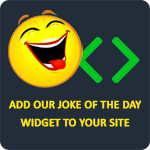 Yo momma so stupid she thought Bruno Mars was a planet.
Uncle Sam
I left my Adderall in my Ford Fiesta, now it's a Ford Focus.
Bob
Yo mama so ugly the Terminator said, "I won't be back."
tonyswag
Why did LaBron James skip college? Because he would never make it to the finals!
idol2680
Yo mamma is so old she knew Burger King when he was a prince.
Anonymous