Categories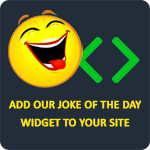 Dear NASA, Your mom thought I was big enough. - Pluto
Anonymous
Elton John used to work at the sperm bank, but he was fired for drinking on the job.
Anonymous
Yo mamma is so old she knew Burger King when he was a prince.
Anonymous
Q: Why did Miley and Liam break up?
A: It just wasn't twerking.
Anonymous
Q: What do you call 5 gay guys walking straight?
A: One Direction.
Kevan34