Categories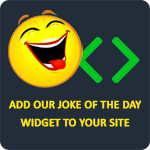 Why did LaBron James skip college? Because he would never make it to the finals!
idol2680
Q: What's the difference between Tom Cruise and a tuxedo?
A: One comes out of the closet on special occasions and the other is a tuxedo.
Anonymous
Yo mama so ugly the Terminator said, "I won't be back."
tonyswag
What kind of sushi does Lady Gaga eat? Raw, raw, raw, raw, rawwww!
hill4ever
Yo mamma is so old she knew Burger King when he was a prince.
Anonymous