Categories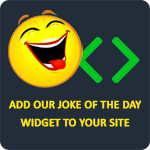 Q: What's the difference between Usain Bolt and Hitler?
A: Usain Bolt can finish a race.
Broom
I had a broken vacuum, then I put a One Direction sticker on it and it suddenly sucked again.
Alana
Yo mama so ugly the Walking Dead wouldn't walk with her.
Anonymous
20 years ago we had Johnny Cash, Bob Hope, and Steve Jobs. Now we have no cash, no hope, and no jobs.
james wilson
I don't really like watching basketball, I just watch it to find out who the next member of the Kardashian family will be.
KNVanLeuven