Categories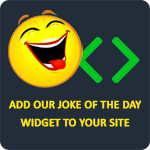 20 years ago we had Johnny Cash, Bob Hope, and Steve Jobs. Now we have no cash, no hope, and no jobs.
james wilson
Q: What's the difference between Usain Bolt and Hitler?
A: Usain Bolt can finish a race.
Broom
Q: What did Obi-Wan say to Luke at the breakfast table?
A: "Use the fork, Luke."
The master
I had a broken vacuum, then I put a One Direction sticker on it and it suddenly sucked again.
Alana
I don't really like watching basketball, I just watch it to find out who the next member of the Kardashian family will be.
KNVanLeuven