Categories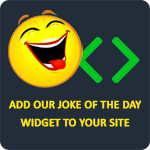 Have you heard about the Osama Bin Laden celebratory drink? It's two shots and a splash of water!
deaddisneybride
A priest, a politician, and a clown, walk into the bar. The bartender says, "What is this, some kind of joke?"
philjeske
It was so cold today, a Democrat had his hands in his own pockets!
Anonymous
What did Clinton say when asked if he had used protection? "Sure, there was a guard standing right outside the door."
Anonymous
The state dinner at the White House honored the prime minister of India, and the menu was vegetarian. How do you like that for Thanksgiving? No turkey, wrong Indians.
wendelsworld