Categories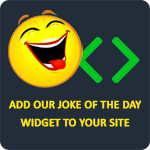 Q: What is Rodney King's least favorite band?
A: The Police.
Anonymous
Q: What's the difference between 9/11 and a cow?
A: You can't milk a cow for over 10 years.
M@mm1
What do you get when you cross a corrupt lawyer with a crooked politician? Chelsea Clinton.
Anonymous
New Jersey Governor Chris Christie has said that he may run for President, but analysts predict it is much more likely that he will walk.
Obama
I was walking down the street and I punched of a white guy and then I was arrested for assault. The next day after I got out, I punched a black guy and I was arrested for impersonating a police officer.
Mark Bolton