Categories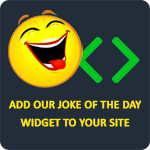 Why did the Pakistani cross the road? Because the American government was subsidizing the construction of mango harvesting and preservation infrastructure in the region on the other side, allowing farmers with the necessary means to develop strong ties to American markets and earn significant profits.
sbkenney
The state dinner at the White House honored the prime minister of India, and the menu was vegetarian. How do you like that for Thanksgiving? No turkey, wrong Indians.
wendelsworld
Q: What did Osama Bin Laden's ghost say to Mitt Romney? A: "Don't be sad, Obama's foreign policy killed me too"
TheLaughFactory
What did Clinton say when asked if he had used protection? "Sure, there was a guard standing right outside the door."
Anonymous
A priest, a politician, and a clown, walk into the bar. The bartender says, "What is this, some kind of joke?"
philjeske