Categories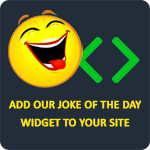 A priest, a politician, and a clown, walk into the bar. The bartender says, "What is this, some kind of joke?"
philjeske
I went into a Liberal clothing store today to purchase some pants. When I started trying on a few pairs, I noticed that all the pockets except one were visibly removed. I stopped a clerk and ask him if anyone complained. He said "No, Liberals always want a hand out." I asked what happened to the other pockets. "They don't go to waste: Conservatives use them to line theirs."
thechz
What did Clinton say when asked if he had used protection? "Sure, there was a guard standing right outside the door."
Anonymous
The state dinner at the White House honored the prime minister of India, and the menu was vegetarian. How do you like that for Thanksgiving? No turkey, wrong Indians.
wendelsworld
Q: What's the difference between 9/11 and a cow?
A: You can't milk a cow for over 10 years.
M@mm1