Categories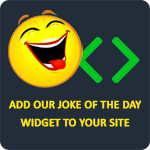 Q: What did Osama Bin Laden's ghost say to Mitt Romney? A: "Don't be sad, Obama's foreign policy killed me too"
TheLaughFactory
Q: What is Rodney King's least favorite band?
A: The Police.
Anonymous
A young gay man calls home and tells his Jewish mother that he has decided to go back into the closet because he has met a wonderful girl and they are going to be married. He tells his mother that he is sure she will be happier since he knows that his gay lifestyle has been very disturbing to her. She responds that she is indeed delighted and asks tentatively, "I suppose it would be too much to hope that she would be Jewish?" He tells her that not only is the girl Jewish, but she's from a wealthy Beverly Hills family. She admits she is overwhelmed by the news, and asks, "What is her name?" He answers, "Monica Lewinsky." There is a pause, then his mother asks, "What happened to that nice black boy you were dating last year?"
Anonymous
What do you get when you cross a corrupt lawyer with a crooked politician? Chelsea Clinton.
Anonymous
One day, the pope was in from Italy and after a rough week of meeting archbishops and other religious figures, he decided to go see the Galveston shore in Texas. When he arrives in his pope mobile, he sees a man struggling for his life aginst a shark. Upon a closer look he notices that it is John Kerry. Horrified, he starts to call for help when a speedboat pulls up along side Mr. Kerry, with George W. Bush and Dick Cheney on board. Dick Cheney leans over and pulls him out. Then George W. Busy and Dick Cheney begin to beat the shark to death with baseball bats. The two men notice the Pope and land the boat on the beach. The pope says to the men, "I know that there has been a lot of attention and a lot of strife in this election, but I can see that you two men respect each other and would help each other in their house of need. You have my blessings." The pope packs off and drives out of site. Bush asks, "Who was that?" "That was the pope Mr. President, he is all knowing and in touch with God. Leader of the Catholic Church," says Cheney. Bush says, "Well that's all neat and fine, but he doesn't know anything about shark fishing. Hows the bait holding up?"
johnrodgers30