Categories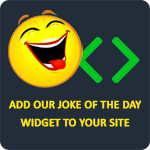 I was playing UNO with a bunch of Mexicans, and they were cheating because they kept stealing all the green cards.
ituvalu
After numerous rounds of, "We don't know if Osama is still alive," Osama himself decided to send Ted Kennedy a letter in his own handwriting to let him know he was still in the game. Kennedy opened the letter which appeared to contain a single line of coded message, 370HSSV-0773H. Kennedy was baffled, so he e-mailed it to John Kerry. Kerry and his aides had no clue either, so they sent it to the FBI. Noone could solve it at the FBI, so it went to the CIA, then to the NSA. With no clue as to its meaning, the FBI finally asked Marine Corps Intelligence for help. Within a few seconds the Marine Corps cabled back with this reply, "Tell Kennedy he's holding the message upside down."
jatorres
Have you heard about the Osama Bin Laden celebratory drink? It's two shots and a splash of water!
deaddisneybride
A young gay man calls home and tells his Jewish mother that he has decided to go back into the closet because he has met a wonderful girl and they are going to be married. He tells his mother that he is sure she will be happier since he knows that his gay lifestyle has been very disturbing to her. She responds that she is indeed delighted and asks tentatively, "I suppose it would be too much to hope that she would be Jewish?" He tells her that not only is the girl Jewish, but she's from a wealthy Beverly Hills family. She admits she is overwhelmed by the news, and asks, "What is her name?" He answers, "Monica Lewinsky." There is a pause, then his mother asks, "What happened to that nice black boy you were dating last year?"
Anonymous
What do you get when you cross a corrupt lawyer with a crooked politician? Chelsea Clinton.
Anonymous