Categories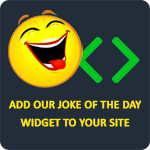 What do you call a lawyer who doesn't know the law? A judge.
Anonymous
What do you call a bench full of white people? The NBA!
kwikski19
What do lawyers use as contraceptives? Their personalities.
Anonymous
The employees at Taco Bell recently started wearing gloves when preparing the food. Ever wonder if their intentions are to protect their hands from the food they're serving?
curiositycultt
How can you tell when an engineer is an extrovert. He stares at YOUR shoes while he talks to you.
dustinc