Categories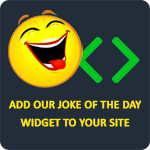 What do your boss and a slinky have in common? They're both fun to watch tumble down the stairs.
Anonymous
What can a goose do that a duck can't, but a lawyer should? Shove its bill up its ass!
Anonymous
Why won't sharks attack lawyers? Professional courtesy.
Anonymous
While visiting a friend in the hospital, a young man notices several pretty nurses, each one of them wearing a pin designed to look like an apple. "What does the pin signify?" he asks one of them. "Oh! Nothing," she says with a chuckle, "we just use it to keep the doctors away."
VinceA
How can you tell when an engineer is an extrovert. He stares at YOUR shoes while he talks to you.
dustinc