Categories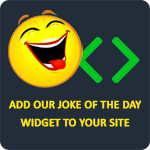 Two factory workers are talking. The woman says, "I can make the boss give me the day off." The man replies, "And how would you do that?" The woman says, "Just wait and see." She then hangs upside down from the ceiling. The boss comes in and says, "What are you doing?" The woman replies, "I'm a light bulb." The boss then says, "You've been working so much that you've gone crazy. I think you need to take the day off." The man starts to follow her and the boss says, "Where are you going?" The man says, "I'm going home, too. I can't work in the dark."
enilda78
As a group of soldiers stood in formation at an Army Base, the Drill Sergeant said, "All right! All you idiots fall out." As the rest of the squad wandered away, one soldier remained at attention. The Drill Instructor walked over until he was eye to eye with him, and then raised a single eyebrow. The soldier smiled and said, "Sure was a lot of 'em, huh, sir?"
Anonymous
"What do you want to be when you grow up?" "A doctor." "And why's that?" "Because it's the only profession where you can tell women to take off their clothes and then stick their husbands with the bill."
Anonymous
An old lady rushed into the police department and claimed she was raped. When asked what the guy looked like, she said she didn't know, only that he was a contractor. When asked how she knew that, she yelled, "All he could say was, 'I'm coming! I'm coming!' and he never finished the job."
myaghoubi
An infinite crowd of mathematicians enter a bar. The first one orders a pint, the second one orders half a pint, the third one orders a quarter pint. The bartender says, "I understand," and pours two pints.
mmowry