Categories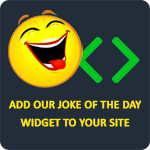 A doctor reaches into his smock to get a pen to write a prescription and pulls out a rectal thermometer. "Oh, damn it," he proclaims, "Some asshole has my pen!"
Mark My Words
A lawyer is standing in a long line at the box office. Suddenly, he feels a pair of hands kneading his shoulders, back, and neck. The lawyer turns around. "What the hell do you think you're doing?" "I'm a chiropractor, and I'm just keeping in practice while I'm waiting in line." "Well, I'm a lawyer, but you don't see me screwing the guy in front of me, do you?"
iamalilqt
A thief stuck a pistol in a man's ribs and said, "Give me your money." The gentleman, shocked by the sudden attack, said, "You cannot do this, I'm a congressman!" The thief replied, "In that case, give me MY money!"
Anonymous
A doctor and a lawyer are talking at a party. Their conversation is constantly interrupted by people describing their ailments and asking the doctor for free medical advice. After an hour of this, the exasperated doctor asks the lawyer, "What do you do to stop people from asking you for legal advice when you're out of the office?" "I give it to them," replies the lawyer, "and then I send them a bill." The doctor is shocked, but agrees to give it a try. The next day, still feeling slightly guilty, the doctor prepares the bills. When he goes to place them in his mailbox, he finds a bill from the lawyer.
jvcuzner
What did the psychiatrist say when a man wearing nothing but saran wrap walked in to the office? I can clearly see "you're" nuts....
yadypink69