Categories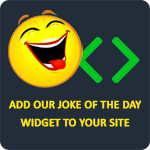 Two men from Dublin are walking to the annual Dublin Fair, when it starts to rain. "Patrick, put your umbrella up, it's raining." "I can't, Mick, it's got holes in it." "Holes in it? Then why did you bring it with you?" "I didn't think it would rain."
jtsegal
Q: Why do Scottish people wear kilts? A: Sheep can hear a zipper from a mile away.
Anonymous
At first I was surprised the Holocaust happened. And then I watched German Porn.
mmlaughfactory
Have you heard the Mexican weather forecast? Chili today and hot tamale.
shermsas
Q: Why is North Korea not as fun as South Korea?
A: Because it has no Seoul.
Joshua and Olivia