Categories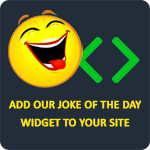 Q: How many Frenchmen does it take to change a light bulb?
A: Five. One to hold the light bulb and four to turn the house.
KillKills
Q: What do you call two Mexicans playing basketball?
A: Juan on Juan.
Anonymous
Paddy Englishman, Paddy Scotchman and Paddy Irishman come across a magic slide. The slide operator tells them when they slide down, whatever they shout out for is what they will land in at the bottom. Paddy Englishman goes first and yells "Gold!" and lands in gold. Paddy Scotsman goes next and screams "Silver!" so he lands in silver. Paddy Irishman looks down the slide and, being afraid of heights, closes his eyes and jumps, crying out "OH SH*T!"
Irish
Have you heard the Mexican weather forecast? Chili today and hot tamale.
TheLaughFactory
What's the difference between an Irish wake and an Irish wedding? One less drunk.
mblake73