Categories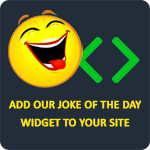 How do Germans tie their shoes? With little knot-sies!
akozel
Q: How did I get to Iraq?

A: Iran.
Anonymous
Why do Italians wear gold chains? So they know where to stop shaving!
salasand
Q: Why are there no knock knock jokes about America?
A: Because freedom rings!
h_crumbs
Q: How many Frenchmen does it take to change a light bulb?
A: Five. One to hold the light bulb and four to turn the house.
KillKills