Categories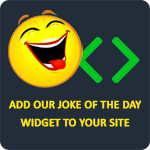 Q: How do you kill 100 flies at once? A: Smack an Ethiopian in the face with a frying pan.
Anonymous
Q: What's the difference between America and yogurt?
A: If you leave yogurt alone for 200 years, it develops a culture.
MsEverybodylovespie
Q: Which state has the most questions?
A: Alaska.
joke lover
Q: How did I get to Iraq?

A: Iran.
Anonymous
How do Germans tie their shoes? With little knot-sies!
akozel