Categories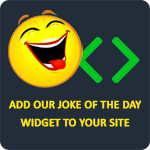 In class, Jose is asked to use the word "Cherokee" in a sentence. He pauses and says, "I lost my house key and now I have to Cherokee with my sister."
guicho1972
How do Germans tie their shoes? With little knot-sies!
akozel
Why do Italians wear gold chains? So they know where to stop shaving!
salasand
Paddy Englishman, Paddy Scotchman and Paddy Irishman come across a magic slide. The slide operator tells them when they slide down, whatever they shout out for is what they will land in at the bottom. Paddy Englishman goes first and yells "Gold!" and lands in gold. Paddy Scotsman goes next and screams "Silver!" so he lands in silver. Paddy Irishman looks down the slide and, being afraid of heights, closes his eyes and jumps, crying out "OH SH*T!"
Irish
Q: How do you kill 100 flies at once? A: Smack an Ethiopian in the face with a frying pan.
Anonymous