Categories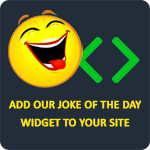 In the beginning, God created the heaven and the earth... After that, everything else was made in China.
Andy Maus
So two Irishmen are traveling to Australia. Before they leave home, one of their dads gives them both a bit of advice: "You watch them Aussie cab drivers. They'll rob you blind. Don't you go paying them what they ask. You haggle." At the Sydney airport, the Irishmen catch a cab to their hotel. When they reach their destination, the cabbie says, "That'll be twenty dollars, lads." "Oh no you don't! My dad warned me about you. You'll only be getting fifteen dollars from me," says one of the men. "And you'll only be getting fifteen from me too," adds the other.
Rústi Strønzö
Q: Why is England the wettest country?
A: Because so many kings and queens have been reigning there.
Joke maker
Q: What's the best thing about Switzerland?
A: I don't know, but the flag is a big plus.
TheLaughFactory
Q: What do you call two Mexicans playing basketball?
A: Juan on Juan.
Anonymous