Categories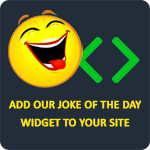 A taxi passenger taps the driver on the shoulder to ask him a question. The driver screams, loses control of the car, nearly hits a bus, goes up on the footpath, and stops centimeters from a shop window. For a second, everything goes quiet in the cab, then the driver says, "Look mate, don't ever do that again. You scared the daylights out of me!" The passenger apologizes and says, "I didn't realize that a little tap would scare you so much." The driver replies, "Sorry, it's not really your fault. Today is my first day as a cab driver. I've been driving a funeral van for the last 25 years."
Nev
In the beginning, God created the heaven and the earth... After that, everything else was made in China.
Andy Maus
Maria, a devout Catholic, got married and had 15 children. After her first husband died, she remarried and had 15 more children. A few weeks after her second husband died, Maria also passed away. At Maria's funeral, the priest looked skyward and said, "At last, they're finally together." Her sister sitting in the front row said, "Excuse me, Father, but do you mean she and her first husband, or she and her second husband?" The priest replied, "I mean her legs."
Otto Stewart
A man went to his lawyer and told him, "My neighbor owes me $500 and he won't pay up. What should I do?" "Do you have any proof he owes you the money?" asked the lawyer. "Nope," replied the man. "OK, then write him a letter asking him for the $5,000 he owed you," said the lawyer. "But it's only $500," replied the man. "Precisely. That's what he will reply and then you'll have your proof!"
Gerald H. Curcio
Student: "Should I get in trouble for something I didn't do?"
Teacher: "No."
Student: "Good, because I didn't do my homework."
Anonymous