Categories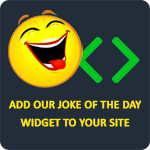 A pick pocket was up in court for a series of petty crimes. The judge said, "Sir, you are hereby fined $100." The lawyer stood up and said, "Thanks, your honor, however my client only has $75 on him at this time, but if you'd allow him a few minutes in the crowd..."
Payton sharp
In the beginning, God created the heaven and the earth... After that, everything else was made in China.
Andy Maus
Q: What starts with E, ends with E, and has only 1 letter in it?
A: Envelope.
hatcher
Kid 1: "Hey, I bet you're still a virgin."
Kid 2: "Yeah, I was a virgin until last night ."
Kid 1: "As if."
Kid 2: "Yeah, just ask your sister."
Kid 1: "I don't have a sister."
Kid 2: "You will in about nine months."
Achtung
A man went to his lawyer and told him, "My neighbor owes me $500 and he won't pay up. What should I do?" "Do you have any proof he owes you the money?" asked the lawyer. "Nope," replied the man. "OK, then write him a letter asking him for the $5,000 he owed you," said the lawyer. "But it's only $500," replied the man. "Precisely. That's what he will reply and then you'll have your proof!"
Gerald H. Curcio