Categories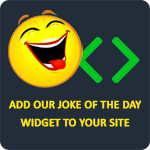 Two mental patients were walking next to a swimming pool. One jumped into the pool and the other jumped in to save him. Their doctor saw the rescue and called the rescuer to his office. "Due to your actions, it appears your mental state is fine," the doctor said to the patient, "You can go home to your family, but before you do, you should know that the person you saved hung himself today." The patient replied, "He didn't hang himself; I hung him there to dry."
Anonymous
A man went to his lawyer and told him, "My neighbor owes me $500 and he won't pay up. What should I do?" "Do you have any proof he owes you the money?" asked the lawyer. "Nope," replied the man. "OK, then write him a letter asking him for the $5,000 he owed you," said the lawyer. "But it's only $500," replied the man. "Precisely. That's what he will reply and then you'll have your proof!"
Gerald H. Curcio
Got tasered picking up my friend from the airport today. Apparently security doesn't like it when you shout, "Hi Jack!"
TheLaughFactory
Two men visit a prostitute. The first man goes into the bedroom. He comes out ten minutes later and says, "Heck. My wife is better than that." The second man goes in. He comes out ten minutes later and says, "You know? Your wife IS better."
Kevin Slack
A mother tells her little boy, "Johnny, you mustn't eat too many lollies or I'll hide the lolly jar." Johnny asks, "Why?" His mother says, "Because something bad will happen! Your tummy will blow up big like a balloon and then pop!" The next day at church, the boy is sitting next to a pregnant woman. He points to her belly smiling and says, "I know what you've been doing!"

JJR Rob