Categories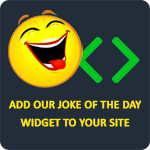 A man went to his lawyer and told him, "My neighbor owes me $500 and he won't pay up. What should I do?" "Do you have any proof he owes you the money?" asked the lawyer. "Nope," replied the man. "OK, then write him a letter asking him for the $5,000 he owed you," said the lawyer. "But it's only $500," replied the man. "Precisely. That's what he will reply and then you'll have your proof!"
Gerald H. Curcio
Got tasered picking up my friend from the airport today. Apparently security doesn't like it when you shout, "Hi Jack!"
TheLaughFactory
A mother tells her little boy, "Johnny, you mustn't eat too many lollies or I'll hide the lolly jar." Johnny asks, "Why?" His mother says, "Because something bad will happen! Your tummy will blow up big like a balloon and then pop!" The next day at church, the boy is sitting next to a pregnant woman. He points to her belly smiling and says, "I know what you've been doing!"

JJR Rob
Two men visit a prostitute. The first man goes into the bedroom. He comes out ten minutes later and says, "Heck. My wife is better than that." The second man goes in. He comes out ten minutes later and says, "You know? Your wife IS better."
Kevin Slack
A boss said to his secretary, "I want to have sex with you, but I will make it very fast. I'll throw $1,000 on the floor and by the time you bend down to pick it up, I'll be done." She thought for a moment then called her boyfriend and told him the story. Her boyfriend said, "Do it but ask him for $2,000. Then pick up the money so fast, he won't even have enough time to undress himself." She agrees. After half an hour passes, the boyfriend calls the girlfriend and asks, "So what happened?" She responds, "The bastard used coins, so I'm still picking it up and he is still having sex with me!"
Bertha Kee