Categories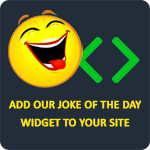 Two young men sneak on to a blind man's property in order to steal something of vaule. The blind man hears them and goes to the door with his shot gun. The two young men, seeing the blind man, stand motionless. The blind calls out, "Marco!". Silence. He tries once more, "Marco!" More silence. One more time, "Marco!" One of the young men, tired of the game, yells out, "We aren't going to fall for that..." *BANG!
coreyjohnson193
A psychiatrist was conducting a group therapy session with three young mothers and their small children. "You all have obsessions," he observed. To the first mother he said, "You are obsessed with eating. You've even named your daughter Candy." He turned to the second mom. "Your obsession is money. Again, it manifests itself in your child's name, Penny." At this point, the third mother got up, took her little boy by the hand and whispered, "Come on, Dick, let's go."
Gamer2210
A pirate walks into a bar with a steering wheel on the front of his pants. The bartender asks, "What's with the wheel?" The pirate says, "Arrrr! It drives me nuts!"
goorfa1
Two rednecks were walking along when they saw a dog licking its balls. The first redneck said, "I wish I could do that." The other redneck said, "You dumbass, he would bite you."
TheLaughFactory
An old woman is sitting in a rocking chair on her porch, petting her cat Foo Foo. A fairy appears and says, "I'm here to grant you three wishes." The old woman says, "I wish I was twenty years old and beautiful again." Poof! She is. "Now I wish I had a million dollars and this old house was a mansion." Poof! Done. "And now I wish that Foo Foo was the handsomest man ever and deeply in love with me." Poof! Suddenly she's in the arms of a gorgeous man. He kisses her and says, "Darling, aren't you sorry you had me fixed?"
TheLaughFactory