Categories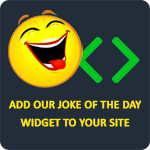 The following is a courtroom exchange between a defense attorney and a farmer with a bodily injury claim. It came from a Houston, Texas insurance agent.

Attorney: "At the scene of the accident, did you tell the constable you had never felt better in your life?"

Farmer: "That's right."

Attorney: "Well, then, how is it that you are now claiming you were seriously injured when my client's auto hit your wagon?"

Farmer: "When the constable arrived, he went over to my horse, who had a broken leg, and shot him. Then he went over to Rover, my dog, who was all banged up, and shot him. When he asked me how I felt, I just thought under the circumstances, it was a wise choice of words to say."
TheLaughFactory
A guy walks into a bar with a 10 foot long alligator. The bartender flips out and says, "Hey buddy, you gotta get that animal outta here. It's going to bite one of my customers and I'll get sued." The guy says, "No no, it's a tame alligator. I'll prove it to you." He picks up the alligator and puts it on the bar. Then he unzips his pants, pulls out his package and sticks it in the alligator's mouth. The alligator just keeps his mouth open. After about 5 minutes, he pulls it out of the alligator's mouth, zips up his pants, and says, "See, I told you it was a tame alligator. Anybody else want to try it?" The drunk at the end of the bar says, "Yah, I'd like to try it but I don't think I can hold my mouth open that long!"
TheLaughFactory
Q: Why did the skeleton cross the road?
A: To get to the body shop.
Lucyfaith16
A woman goes to her boyfriend's parents' house for dinner. This is her first time meeting the family and she is very nervous. They all sit down and begin eating a fine meal. The woman is beginning to feel a little discomfort, thanks to her nervousness and the broccoli casserole. The gas pains are almost making her eyes water. Left with no other choice, she decides to relieve herself a bit and lets out a dainty little fart. It wasn't loud, but everyone at the table heard the poot. Before she even had a chance to be embarrassed, her boyfriend's father looked over at the dog that had been snoozing at the women's feet, and said in a rather stern voice, "Ginger!" The woman thought, "This is great!" and a big smile came across her face. A couple minutes later, she was beginning to feel the pain again. This time, she didn't hesitate. She let a much louder and longer fart rip. The father again looked at the dog and yelled, "Dammit, Ginger!" Once again the woman smiled and thought, "Yes!" A few minutes later the woman had to let another one rip. This time she didn't even think about it. She let rip a fart that rivaled a train whistle blowing. Again, the father looked at the dog with disgust and yelled, "Dammit, Ginger, get away from her before she shits on you!"
Legolas
Q: What do you get when you put 50 lawyers in a room with 50 lesbians? A: 100 people who don't do dick.
TheLaughFactory