Categories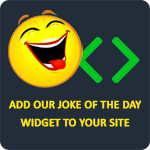 A taxi passenger taps the driver on the shoulder to ask him a question. The driver screams, loses control of the car, nearly hits a bus, goes up on the footpath, and stops centimeters from a shop window. For a second, everything goes quiet in the cab, then the driver says, "Look mate, don't ever do that again. You scared the daylights out of me!" The passenger apologizes and says, "I didn't realize that a little tap would scare you so much." The driver replies, "Sorry, it's not really your fault. Today is my first day as a cab driver. I've been driving a funeral van for the last 25 years."
Anonymous
Doctor: "You'll live to be 60!"
Patient: "I am 60!"
Doctor: "See! What did I tell you?"
Bookworm
Why is it that your nose runs, but your feet smell?
Anonymous
Two mental patients were walking next to a swimming pool. One jumped into the pool and the other jumped in to save him. Their doctor saw the rescue and called the rescuer to his office. "Due to your actions, it appears your mental state is fine," the doctor said to the patient, "You can go home to your family, but before you do, you should know that the person you saved hung himself today." The patient replied, "He didn't hang himself; I hung him there to dry."
Anonymous
Q: Why are ghosts bad liars?
A: You can see right through them.
Capricorn37