Categories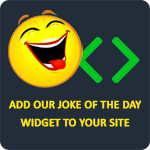 A doctor reaches into his smock to get a pen to write a prescription and pulls out a rectal thermometer. "Oh, damn it," he proclaims, "Some asshole has my pen!"
Mark My Words
A 3 years old boy sits near a pregnant woman.
Boy: Why do you look so fat?
Pregnant woman: I have a baby inside me.
Boy: Is it a good baby?
Pregnant woman: Yes, it is a very good baby.
Boy: Then why did you eat it?!
Mo
Q: What did the green grape say to the purple grape?
A: "Breathe, stupid!"
saul90716
An old man is met by his attorney, and is told he is going to be audited. He rides to the IRS office with his attorney, and when he gets there, he begins to talk with the IRS agent. "I bet $2,000 I can bite my own eye!" The IRS agent agrees to the bet, believing it an impossible task. The old man laughs, pulls out his glass eye, and bites it. The IRS agent is dumbfounded. The old man bets $3,000 he can bite his other eye. The IRS agent knows there's no way possible to do this, so he once more agrees. The old man cackles, pulls out his dentures, and bites his eye. Then the old man finally wagers, "I bet $20,000 I can stand on the far side of your desk, pee over the desk, and get it into your wastebasket, without missing a single drop." The agent knows he won't be able to, so once more he agrees. The old man indeed misses, peeing all over the desk, and on the paperwork. The IRS agent jumps for joy, but then notices the attorney over in the corner moaning. "Are you all right?" asks the agent. "No! On the way over here, he bet me $400,000 he could pee on your desk and you'd be happy about it!"
CHanaghan
A taxi passenger taps the driver on the shoulder to ask him a question. The driver screams, loses control of the car, nearly hits a bus, goes up on the footpath, and stops centimeters from a shop window. For a second, everything goes quiet in the cab, then the driver says, "Look mate, don't ever do that again. You scared the daylights out of me!" The passenger apologizes and says, "I didn't realize that a little tap would scare you so much." The driver replies, "Sorry, it's not really your fault. Today is my first day as a cab driver. I've been driving a funeral van for the last 25 years."
Nev