Categories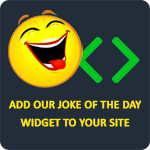 A guy walks into a bar with a 10 foot long alligator. The bartender flips out and says, "Hey buddy, you gotta get that animal outta here. It's going to bite one of my customers and I'll get sued." The guy says, "No no, it's a tame alligator. I'll prove it to you." He picks up the alligator and puts it on the bar. Then he unzips his pants, pulls out his package and sticks it in the alligator's mouth. The alligator just keeps his mouth open. After about 5 minutes, he pulls it out of the alligator's mouth, zips up his pants, and says, "See, I told you it was a tame alligator. Anybody else want to try it?" The drunk at the end of the bar says, "Yah, I'd like to try it but I don't think I can hold my mouth open that long!"
TheLaughFactory
Doctor: "I am not exactly sure of the cause. I think it could be due to alcohol."
Patient: "That's okay. I'll come back when you are sober."
TheLaughFactory
Q: What do you call a doll on fire?
A: A Barbie-Q.
TheLaughFactory
Molecule 1: I just lost an electron.
Molecule 2: Are you sure?
Molecule 1: I'm positive.
Anonymous
Two young men sneak on to a blind man's property in order to steal something of vaule. The blind man hears them and goes to the door with his shot gun. The two young men, seeing the blind man, stand motionless. The blind calls out, "Marco!". Silence. He tries once more, "Marco!" More silence. One more time, "Marco!" One of the young men, tired of the game, yells out, "We aren't going to fall for that..." *BANG!
coreyjohnson193