Categories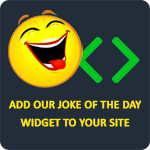 Dad: "Say 'daddy.'"
Baby: "Mommy!"
Dad: "Come on, say 'daddy!'"
Baby: "Mommy!"
Dad: "F*ck you. Say 'daddy!'"
Baby: "F*ck you. Mommy!"
Mom: "Honey, I'm home!"
Baby: "F*ck you!"
Mom: "Who taught you to say that?"
Baby: "Daddy!"
Dad: "Son of a b*tch."
Joe Montoya
Three old timers at the retirement home were complaining about growing old. The first one says, "I wake up at 7:00 AM and try for a half hour to take a poop." The second one says, "Oh yeah? I spend an hour trying to pee." The third one says, "I take a nice poop at 7:00 AM and about 7:30 AM take a nice pee." The other two guys look at him and ask, "What are you complaining about?" The third man explains, "I don't wake up till 8:30 AM."
Mark My Words
Knowledge is knowing a tomato is a fruit; wisdom is not putting it in a fruit salad.
Anonymous
On their way to get married, a young Catholic couple is involved in a fatal car accident. The couple found themselves sitting outside the Pearly Gates waiting for St. Peter to process them into Heaven. While waiting, they began to wonder: Could they possibly get married in Heaven? When St. Peter showed up, they asked him. St. Peter said, "I don't know. This is the first time anyone has asked. Let me go find out,'" and he left. The couple sat and waited, and waited. Two months passed and the couple were still waiting. While waiting, they began to wonder what would happen if it didn't work out; could you get a divorce in heaven? After yet another month, St. Peter finally returned, looking somewhat bedraggled. "Yes," he informed the couple, "You can get married in Heaven." "Great!" said the couple, "But we were just wondering, what if things don't work out? Could we also get a divorce in Heaven?" St. Peter, red-faced with anger, slammed his clipboard onto the ground. "What's wrong?" asked the frightened couple. "OH, COME ON!," St. Peter shouted, "It took me three months to find a priest up here! Do you have any idea how long it'll take me to find a lawyer?"
E
A lady comes home from her doctor's appointment grinning from ear to ear. Her husband asks, "Why are you so happy?" The wife says, "The doctor told me that for a forty-five year old woman, I have the breasts of a eighteen year old." "Oh yeah?" quipped her husband, "What did he say about your forty-five year old ass?" She said, "Your name never came up in the conversation."
Mark My Words