Categories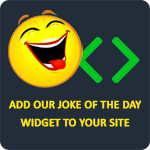 One day in class, the teacher brought a bag full of fruit and said, "Now class, I'm going to reach into the bag and describe a piece of fruit and you tell me which fruit I'm talking about. Alright, the first one is round, plump, and red. Little Johnny raised his hand high but the teacher ignored him and picked Deborah who promptly answered, "Apple." The teacher replied, "No Deborah, it's a beet, but I like your thinking. Now the second one is soft, fuzzy and colored red and brown." Johnny is hopping up and down in his seat trying to get the teacher to call on him but she calls on Billy. "Is it a peach?" Billy asks. "No, it's a potato, but I like your thinking," the teacher replies. "Okay the next one is long, yellow, and fairly hard." Johnny is about to explode as he waves his hand frantically but the teacher calls on Sally who say, "A banana." The teacher responds, "No, it's a squash, but I like your thinking." Johnny is irritated now so he speaks up loudly, "Hey, I've got one for you teacher. Let me put my hand in my pocket. Okay, I've got it. It's round, hard, and it's got a head on it." "Johnny!" she cries, "That's disgusting!" "Nope," answers Johnny, "It's a quarter, but I like your thinking!"
jonmcginty
The old couple had been married for 50 years. They were sitting at the breakfast table one morning when the wife says, 'Just think, fifty years ago we were sitting at this same breakfast table together.' 'I know,' the old man said. 'We were probably sitting here naked as a jaybird, too .' 'Well,' Granny snickered. 'Let's relive some old times.' Where upon, the two stripped to the buff and sat back down at the table. 'You know, honey,' the little old lady breathlessly replied, 'My nipples are as hot for you today as they were fifty years ago.' 'I wouldn't be surprised,' replied Gramps. 'One's in your coffee and the other is in your oatmeal.'
Eagle145
When someone yawns, do deaf people think they're screaming?
Anonymous
An old man goes into the Social Security Office and fills out an application. Too old to have a birth certificate, he is asked to prove he is old enough. He opens his shirt and shows them the gray hair on his chest and they accept that as proof. He goes home to his wife, shows her the check, and explains to her what has happened. She replies, "Well get back down there, pull down your pants, and see if you can get disability!"
TheLaughFactory
Two women friends had gone out for a girls night out, and had been overenthusiastic on the cocktails. Incredibly drunk and walking home, they suddenly realized they both needed to pee. They were very close to a graveyard, and one of them suggested they do their business behind a headstone or something. The first woman had nothing to wipe with, so she took off her panties, used them, and threw them away. Her friend however, was wearing an expensive underwear set and didn't want to ruin hers, but was lucky enough to salvage a large ribbon from a wreath that was on a grave and proceeded to wipe herself with it. After finishing, they made their way home. The next day, the first woman's husband phones the other husband and says, "These girls' nights out have got to stop. My wife came home last night without her panties." "That's nothing," said the other. "Mine came back with a sympathy card stuck between the cheeks of her butt that said, "From all of us at the fire station, we'll never forget you!"
Bianca723