Categories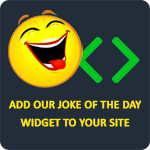 You are on a horse, galloping at a constant speed. On your right side is a sharp drop off, and on your left side is an elephant traveling at the same speed as you. Directly in front of you is another galloping horse but your horse is unable to overtake it. Behind you is a lion running at the same speed as you and the horse in front of you. What must you do to safely get out of this highly dangerous situation? Get your drunk ass off the merry-go-round!
Anonymous
There is an overweight guy who is watching TV. A commercial comes on for a guaranteed weight loss of 10 pounds in a week. So the guy, thinking what the hell, signs up for it. Next morning an incredibly beautiful woman is standing at his door in nothing but a pair of running shoes and a sign about her neck that reads, "If you can catch me, you can have me." As soon as he sees her, she takes off running. He tries to catch her, but is unable. This continues for a week, at the end of which, the man has lost 10 pounds. After this he tries the next weight loss plan, 15 pounds in a week. The next morning an even more beautiful woman is standing at the door, in similar conditions. The same happens with her as the first woman, except he almost catches her. This continues for a week, at the end of which he, as suspected, weighs 15 pounds less. Excited about this success, he decides to do the master program. Before he signs up, he is required to sign a waiver and is warned about the intensity of this plan. Still he signs up. The next morning, waiting at the door, is a hulking 300 pound muscle man with nothing but a pair of running shoes, a raging erection, and a sign around his neck that says, "If I catch you, you're mine!" The man was supposed to lose 25 pounds in the week; he lost 34.
Anonymous
A lady comes home from her doctor's appointment grinning from ear to ear. Her husband asks, "Why are you so happy?" The wife says, "The doctor told me that for a forty-five year old woman, I have the breasts of a eighteen year old." "Oh yeah?" quipped her husband, "What did he say about your forty-five year old ass?" She said, "Your name never came up in the conversation."
Mark My Words
There was this guy at a bar, just looking at his drink. He stays like that for a half hour. Then a big trouble making truck driver steps next to him, takes the drink from the guy, & just drinks it all down. The poor man starts crying. The truck driver says, "Come on man, I was just joking. Here, I'll buy you another drink. I just can't stand to see a man cry." "No, it's not that," the man replies, wiping his tears, "This day is the worst of my life. First, I oversleep & I go in late to my office. My outraged boss fires me. When I leave the building to go to my car, I find out it was stolen. The police say they can do nothing. I get a cab to go home, & when I get out, I remember I left my wallet. The cab driver just drives away. I go inside my house where I find my wife in bed with the gardener. I leave my home, come to this bar, & just when I was thinking about putting an end to my life, you show up & drink my poison."
Thommy53
Mother superior tells two new nuns that they have to paint their room without getting any paint on their clothes. One nun suggests to the other, "Hey, let's take all our clothes off, fold them up, and lock the door." So they do this, and begin painting their room. Soon they hear a knock at the door. They ask, "Who is it?" "Blind man!" The nuns look at each other and one nun says, "He's blind, so he can't see. What could it hurt?" They let him in. The blind man walks in and says, "Hey, nice tits. Where do you want me to hang the blinds?"
Anonymous