Categories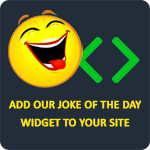 The old couple had been married for 50 years. They were sitting at the breakfast table one morning when the wife says, 'Just think, fifty years ago we were sitting at this same breakfast table together.' 'I know,' the old man said. 'We were probably sitting here naked as a jaybird, too .' 'Well,' Granny snickered. 'Let's relive some old times.' Where upon, the two stripped to the buff and sat back down at the table. 'You know, honey,' the little old lady breathlessly replied, 'My nipples are as hot for you today as they were fifty years ago.' 'I wouldn't be surprised,' replied Gramps. 'One's in your coffee and the other is in your oatmeal.'
Eagle145
A man from Illinois left the snowballed streets of Chicago for a vacation in Florida. His wife was on a business trip and was planning to meet him there the next day. When he reached his hotel, he decided to send his wife a quick e-mail. Unable to find the scrap of paper on which he had written her e-mail address, he did his best to type it in from memory. Unfortunately, he missed one letter and his note was directed instead to an elderly preacher's wife,whose husband had passed away only the day before. When the grieving widow checked her e-mail, she took one look at the monitor, let out a piercing scream, and fell to the floor. At the sound, her family rushed into the room and saw this note on the screen: "Dearest Wife, Just got checked in. Everything prepared for your arrival tomorrow. Your Loving Husband. PS. Sure is hot down here."
Favre4ever
Q: Where's the best view of falling stars in Los Angeles?
A: A rehab center.
noahlot2
One day in class, the teacher brought a bag full of fruit and said, "Now class, I'm going to reach into the bag and describe a piece of fruit and you tell me which fruit I'm talking about. Alright, the first one is round, plump, and red. Little Johnny raised his hand high but the teacher ignored him and picked Deborah who promptly answered, "Apple." The teacher replied, "No Deborah, it's a beet, but I like your thinking. Now the second one is soft, fuzzy and colored red and brown." Johnny is hopping up and down in his seat trying to get the teacher to call on him but she calls on Billy. "Is it a peach?" Billy asks. "No, it's a potato, but I like your thinking," the teacher replies. "Okay the next one is long, yellow, and fairly hard." Johnny is about to explode as he waves his hand frantically but the teacher calls on Sally who say, "A banana." The teacher responds, "No, it's a squash, but I like your thinking." Johnny is irritated now so he speaks up loudly, "Hey, I've got one for you teacher. Let me put my hand in my pocket. Okay, I've got it. It's round, hard, and it's got a head on it." "Johnny!" she cries, "That's disgusting!" "Nope," answers Johnny, "It's a quarter, but I like your thinking!"
jonmcginty
Q: What do you get when you put 50 lawyers in a room with 50 lesbians? A: 100 people who don't do dick.
TheLaughFactory