Categories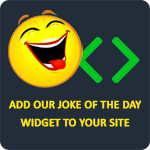 Q: Why does Humpty Dumpty love autumn?
A: Because Humpty Dumpty had a great fall.
TheLaughFactory
Q: How are blondes and beer bottles the same?
A: They're both empty from the neck up!
Anonymous
Yo mama is so stupid she came over to my house and shouted in my mailbox to leave me voicemail.
Anonymous
A sailor drops anchor in a port and heads into the nearest pub. Everyone in the pub is whispering and pointing at him because of his odd shaped body; he has a very muscular body, but a very tiny head on his shoulders. As he orders his drink, he tells the bartender, "I'll explain. I get this in every port and town I visit. I caught a mermaid and she granted me three wishes if I would release her back into the sea. So I told her I wanted a yacht and, sure enough, she came through for me. Next, I asked for a million bucks and now I am set for life. Last of all, I asked her if I could have sex with her and her response was, 'I don't know how you can make love to me with your type of body.' So I asked her, 'How about a little head?'"
Mark My Words
Yo mamma is so fat that when she showed up to watch a sumo wrestling tournament, they gave her the trophy.
Anonymous
Q: Why was the blonde's bellybutton sore?
A: Her boyfriend was blonde too.
Anonymous
Yo mama so poor when you walk in her house's front door you're in the backyard.
Anonymous
Q: Which months have 29 days in them?
A: All of them.
Starzy
A man walks into a bar and the bartender says, "If you can make that horse over there laugh, you can get free drinks for the rest of the night." The man walks over, says something to the horse, it laughs, and he walks back over to the bar to collect his free drinks. The next night, the man goes back to the bar and the bartender asks the man if he can make the horse cry. The man walks over, does something to the horse, and it starts to cry. The bartender asks, "How did you make it cry?" The man replies, "Well, to make the horse laugh last night I told it I had a bigger dick and to make it cry tonight I showed it."
Anonymous
"May I borrow your pen?"
"No, these are my special pens, and this is my second to last one"
"What's so special about them?"
"They are my ultimate writing instrument. I usually use them to keep track of the score in ultimate frisbee. Plus, they have famous people on them."
"Who is that?"
"That's Sean Penn. He's my favorite actor."
"Where did you get them?"
"At the University of Pennsylvania."
"Oh, I see. So that is your penultimate Penn ultimate Penn pen."
Anonymous
Q: What is tall when it's young and short when it's old?
A: A candle.
Anonymous
The only positive thing about you is your HIV status.
Justin Dallas Hoeppner
Q: What do you call 10 blondes in a freezer?
A: Frosted Flakes!
Anonymous
Yo mamma is so fat that when she went to the Gap, she filled it in.
bob
Q: What do you call a rabbi with heartburn?
A: An acidic Jew.
TheLaughFactory
Three Christian boys live in a church. One day the boys say, "Pastor! Pastor! We have done no bad deed." The pastor replies, "Very good. Now each of you are granted one bad deed." One boy comes back and says, "Pastor! Pastor! I broke a car window." The pastor tells him, "Go to the back, pray, and drink some holy water." The second boy comes back saying, "Pastor! Pastor! I punched a woman in the face." The pastor replies, "Go to the back, pray, and drink some holy water." The third boy comes in and says, "Pastor! Pastor! I peed in the holy water!"
Anonymous
Jane: "Where are all the kind, considerate, loving men who can show their feelings?"
Jill: "They already have boyfriends."
Mark My Words
Tom: "Were you born on the highway?"
Jerry: "Uh no, why?"
Tom: "Because that's where most accidents happen."
PandaBuddy2795
One day Jimmy got home early from school and his mom asked, "Why are you home so early?" He answered, "Because I was the only one that answered a question in my class." She said, "Wow, my son is a genius. What was the question?" Jimmy replied, "The question was 'Who threw the trash can at the principal's head?'"
Anonymous
Are you a light switch? Because you turn me on.
justin hoeppner