Categories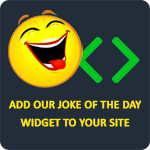 There are 2 cats. The one two three cat and the un deux trois cat. They had a race across the English Channel. Which cat won? The one two three cat because the un deux trois cat cinq.
Anonymous
What was the greatest dictator in the ocean? Adolphin Hitler.
DaBombDiggity
Yo mama is so old that the key on Ben Franklin's kite was to her apartment.
Anonymous
Q: How does a black girl tell if she is pregnant? A: When she pulls the tampon out all the cotton is picked.
Anonymous
Q: Why did all the hippies go to church on the first day of Lent? A: They heard it was "Hash Wednesday."
NOAHLOT2
Chuck Norris got shot. We are now in the hospital, where the bullet is in critical condition.
Anonymous
Q: Who is the most famous comedian in the Bible? A: Samson, because he brought the house down.
TheLaughFactory
The following is a courtroom exchange between a defense attorney and a farmer with a bodily injury claim. It came from a Houston, Texas insurance agent.

Attorney: "At the scene of the accident, did you tell the constable you had never felt better in your life?"

Farmer: "That's right."

Attorney: "Well, then, how is it that you are now claiming you were seriously injured when my client's auto hit your wagon?"

Farmer: "When the constable arrived, he went over to my horse, who had a broken leg, and shot him. Then he went over to Rover, my dog, who was all banged up, and shot him. When he asked me how I felt, I just thought under the circumstances, it was a wise choice of words to say."
TheLaughFactory
A bus full of housewives going on a picnic crashed with no survivors. Each husband cried for a week, but one husband continued for more than two weeks. When asked he replied miserably, "My wife missed the bus."
TheLaughFactory
Yo momma so dumb when I said, "Drinks on the house," she got a ladder.
TheLaughFactory
Two rednecks were walking along when they saw a dog licking its balls. The first redneck said, "I wish I could do that." The other redneck said, "You dumbass, he would bite you."
TheLaughFactory
An old man goes into the Social Security Office and fills out an application. Too old to have a birth certificate, he is asked to prove he is old enough. He opens his shirt and shows them the gray hair on his chest and they accept that as proof. He goes home to his wife, shows her the check, and explains to her what has happened. She replies, "Well get back down there, pull down your pants, and see if you can get disability!"
TheLaughFactory
Q: What book do women like the most?
A: Their boyfriends paycheck!
TheLaughFactory
Boy: "Do you have a shovel in your back pocket?"
Girl: "Why?"
Boy: "Because I'm totally digging that ass."
Lindsay Bazy
Q: Why did the blonde bring a pencil to her bedroom? A: She wanted to draw her curtains.
Anonymous
A mother said to her son, "Look at that kid over there; he's not misbehaving." The son replied, "Maybe he has good parents then!"
Anonymous
Q: Why was six afraid of seven? A: Because seven is a registered six offender.
Anonymous
Q: Why do black people smell? A: So blind people can hate them too.
Anonymous
Q: Where in the Bible is the first tennis match mentioned? A: When Joseph served in the Pharaoh's court.
Nina Jobling
One night a lady came home from her weekly prayer meeting, found she was being robbed, and she shouted out, "Acts 2:38: 'Repent & be baptized & your sins will be forgiven.'" The robber quickly gave up & the lady rang the police. While handcuffing the criminal, a policeman said, "Gee mate, you gave up pretty easily. How come you gave up so quickly?" The robber said, "She said she had an axe and two 38's!"
Nina Jobling