Categories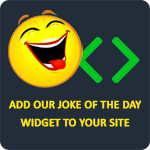 Q: What's the difference between a pygmy tribe and a high school girls track team?
A: The pygmy tribe is a bunch of cunning little runts.
Mark My Words
Yo mama's so stupid that when she uses Hotmail she wears oven mitts.
Anonymous
A: "Why are you late?"
B: "There was a man who lost a hundred dollar bill."
A: "That's nice. Were you helping him look for it?"
B: "No, I was standing on it."
Anonymous
Yo momma so stupid she got fired from a blowjob.
Tom Harwood
One blonde was on one side of the river and there was another blonde on the other side of the river. One blonde yells to the other blonde, "How do you get to the other side?" and the other blonde yells back, "You are on the other side!"
jay
Q: What is a tree's favorite drink?
A: Root beer.
Anonymous
Yo mama so ugly she's the reason Sonic runs fast.
Anonymous
Q: Why do museums have old dinosaur bones?
A: Because they cant afford new ones.
TheLaughFactory
On their way to get married, a young Catholic couple is involved in a fatal car accident. The couple found themselves sitting outside the Pearly Gates waiting for St. Peter to process them into Heaven. While waiting, they began to wonder: Could they possibly get married in Heaven? When St. Peter showed up, they asked him. St. Peter said, "I don't know. This is the first time anyone has asked. Let me go find out,'" and he left. The couple sat and waited, and waited. Two months passed and the couple were still waiting. While waiting, they began to wonder what would happen if it didn't work out; could you get a divorce in heaven? After yet another month, St. Peter finally returned, looking somewhat bedraggled. "Yes," he informed the couple, "You can get married in Heaven." "Great!" said the couple, "But we were just wondering, what if things don't work out? Could we also get a divorce in Heaven?" St. Peter, red-faced with anger, slammed his clipboard onto the ground. "What's wrong?" asked the frightened couple. "OH, COME ON!," St. Peter shouted, "It took me three months to find a priest up here! Do you have any idea how long it'll take me to find a lawyer?"
E
Yo momma so fat her belly button made it to her house 15 minutes before she did.
Anonymous
Q: What do you call a vicar with a boner?
A: An erector.
Anonymous
If I wanted to listen to an asshole, I'd fart.
lightwolf
At the doctor's office, Tom was getting a check up. "I have good news and bad news," says the doctor. "The good news is you have 24 hours left to live." Tom replies, "That's the good news?!" Then the doctor says, "The bad news is I should have told you that yesterday."
Anonymous
Teacher: "Kids,what does the chicken give you?"
Student: "Meat!"
Teacher: "Very good! Now what does the pig give you?"
Student: "Bacon!"
Teacher: "Great! And what does the fat cow give you?"
Student: "Homework!"
Anonymous
Q: How many white people does it take to change a light bulb?
A: All of them. 1 to hold it to the socket and the rest to screw the world.
Anonymous
Q: What do you call a white girl with a yeast infection?
A: Cracker with cheese.
Anonymous
Q: Why is North Korea not as fun as South Korea?
A: Because it has no Seoul.
Joshua and Olivia
The Lone Ranger and Tonto were hunting buffalo one day to no avail. Tonto jumps off his horse, puts his ear to ground and says, "Buffalo come." The Lone Ranger asks, "How do you know that?" Tonto replies, "Ear sticky."
Shawn Bates
Q: What's green and has wheels?
A: Grass, I was lying about the wheels.
Lauren Duckworth
Q: Why is diarrhea hereditary?
A: It runs in your genes.
Hamid