Categories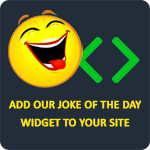 Jim: "Why are you crying?"
Bob: "My parrot drank gasoline and died."
Jim: "I'm sorry. So you're sad because it died?"
Bob: "No, I'm sad because he drank my gallon of gas!"
Anonymous
My wife told me to stop impersonating a flamingo. I had to put my foot down.
Seaweed
Yo momma so poor the only letters she knows in the alphabet are "EBT."
Anonymous
Son: "Dad, there is someone at the door to collect donations
for a community swimming pool."
Father: "Okay, give him a glass of water."
looloo
Q: Why do pirates not know the alphabet?
A: They always get stuck at "c."
Jerroy
I decided to make my password "incorrect" because if I type it in wrong, my computer will remind me, "Your password is incorrect."
Iamsnappy4
A priest is sitting in a confession box and has to go to the bathroom. He calls an alter boy over and says, "I have to go pee and I need you to take over." Not knowing what to do, the alter boy asks for help. The priest says, "Just give them a few Hail Marys and send them on their way." Soon after, a blonde woman walks in the booth and says, "Forgive me father. I have committed a sin. I gave my boyfriend a blowjob." The alter boy is confused, so he asks another nearby alter boy, "What does the priest usually give for a blowjob?" The second alter boy replies, "I don't know about you, but my price is a candy bar and a Pepsi."
Hebrew Special
Blonde: "What is the second to last letter of the alphabet?"
Redhead: "Y."
Blonde: "Because I want to know. Why do you have to question everything?!"
laugh_harder lol
If I wanted to kill myself, I would climb up to your ego and jump down to your IQ level.
Anal Avenger
Jim: "Why are you crying?"
Bob: "I just got slapped in the face by a lady."
Jim: "What happened?"
Bob: "I was holding a photograph, but I dropped it and it fell underneath a woman's dress. I asked her, 'Excuse me, can you hold up your dress? I want to take a photo.'"
Anonymous
A brunette goes into a doctor's office and says that her body hurts wherever she touches it. "Impossible," says the doctor. "Show me." She takes her finger, presses on her elbow, and screams in agony. She pushes her knee and screams, pushes her ankle and screams, and so it goes on; everywhere she touches makes her scream with pain. The doctor says, "You're not really a brunette are you?" She says, "No, I dyed my hair. I'm naturally blonde." "I thought so," he says. "Your finger is broken."
A Blonde
Q: How can you tell a blonde has been having a bad day?
A: She has a tampon behind her ear and she can't find her pencil.
Payton sharp
Yo momma's so fat that Mount Everest tried to climb her.
Anonymous
Yo momma's so fat, she only knows 3 letters of the alphabet: KFC.
Sonia
Yo momma is so poor for Christmas she took a box, put two sticks on it, spun it around, and said, "Here's your Xbox 360."
IICUPCAKELOVER
A boy was going through his grandmother's wallet one night and found her ID card. "Grandma?" he asked,"How much do you weigh?" His grandmother replied, "That's not an appropriate question, Jimmy" He then asked, "How old are you?" She again replied, "That's not appropriate, Jimmy." Finally he asked, "Grandma, why did grandpa leave you?" Before she had time to answer, Jimmy looked at the card and said, "Oh I see, it's because you got an 'F' in sex."
Gotchi
An apartment building is on fire. Firefighters are on the scene, however both their ladder and life net are broken. A star quarterback sees the commotion and asks, "What's happening? Can I help?" The fire chief says, "There's a mother and baby stuck in the building on the 19th floor! The mother is up there in the window. Can you catch her child?" The mother frantically waves down to the men below and the football player shouts up to her, "Go ahead, I'm ready!" He holds his arms out and the women drops the infant. Just when the quarterback deftly catches the child, he spikes it to the ground yelling, "TOUCHDOWN!"
Skellur
Q: Where can you find the biggest amount of the largest sized women's lingerie in the world?
A: In Africa: there's thousands of Z bras.
jacobiwinstock
Q: What do you call a Mexican rolling in sand?
A: A churro.
Anonymous
Yo mama's so fat, her soup bowl came with a lifeguard.
Matty Moot