Categories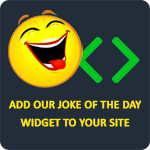 One day a man was walking in the woods when he got lost. For two days he roamed around trying to find a way out. He had not eaten anything during this period and was famished. Over on a rock ledge he spotted a bald eagle. He killed it, and started to eat it. Surprisingly, a couple of park rangers happen to find him at that moment, and arrested him for killing an endangered species. In court, he pleads innocent to the charges against him, claiming that if he didn't eat the bald eagle he would have died from starvation. The judge ruled in his favor. In the judge's closing statement he asked the man, "I would like you to tell me something before I let you go. I have never eaten a bald eagle, nor ever plan on it, but what did it taste like?" The man answered, "Well, it tasted like a cross between a whooping crane and a spotted owl!"
Judith McGrane
Q: What starts with "N" and ends with "R" and you never want to call a black person?
A: Neighbor.
Samuel ford
Q: Why wasn't Jesus born in Australia?
A: They couldn't find three wise men and a virgin.
Anonymous
Knock, knock.
Who's there?
Ach.
Ach who?
Bless you! Need a tissue?
Anonymous
A blonde and a redhead have a ranch. They have just lost their bull. The women need to buy another, but only have $500. The redhead tells the blonde, "I will go to the market and see if I can find one for under that amount. If I can, I will send you a telegram." She goes to the market and finds one for $499. Having only one dollar left, she goes to the telegraph office and finds out that it costs one dollar per word. She is stumped on how to tell the blonde to bring the truck and trailer. Finally, she tells the telegraph operator to send the word "comfortable." Skeptical, the operator asks, "How will she know to come with the trailer from just that word?" The redhead replies, "She's a blonde so she reads slow: 'Come for ta bull.'"
Anonymous
On Thanksgiving day, a little boy overhears his mom and dad fighting. He hears his mom call his dad a bastard and hears his dad call his mom a bitch. He asks, "Mommy, what does bastard mean?" She answers, "Um, it means boy." Then he asks, "Daddy, what does bitch mean?" He says, "Uh, it means girl." Later that day, the boy sees his father in the bathroom shaving; the dad accidentally cuts himself and says, "Shit." The son asks, "What does shit mean?" The dad says, "It means shaving cream." Then he sees his mom in the kitchen carving the turkey; she accidentally cuts herself and says, "Fuck." The son asks her what that word means and she says, "It means carving." That evening, the family's guests arrive for Thanksgiving dinner. The son opens the door to welcome them and says, "Welcome bitches and bastards! My dad is in the bathroom rubbing shit on face and my mom is in the kitchen fucking the turkey."
JackIsPigs
Teacher: "Which book has helped you the most in your life?"
Student: "My father's check book!"
Anonymous
Q: Why are blonde jokes so short?
A: So brunettes can remember them.
Anonymous
Two little boys were known troublemakers, stealing everything they could get their hands, even from the church. One day a priest stopped one of the boys and asked, "Where is God?" The boy shrugged and the priest repeated, "Where is God?" The boy ran out of the cathedral crying to his home where he hid in a closet. Eventually his brother found him and asked, "What's wrong?" The crying boy replied, "We're in trouble now! God missing and they think we took him!"
Anonymous
There once was a Realtor named Hall
With a hexahedronical ball.
The cube of its weight
Plus his pecker times eight
Is his phone number. Give him a call!
rlafey
Q: Why are most hurricanes named after women?
A: Because when they come they are wet and wild and when they leave they take your house and your car.
Anonymous
Q: Why did the dinosaur cross the road?
A: Chickens didn't exist yet.
Riki Relet
Q: What kind of car does Jesus drive?
A: A Christler.
Legend45
Q: What do you call a woman that sets her bills on fire?
A: Bernadette.
Anonymous
Yo mama is like a campfire: everybody gets to stick their wieners in.
luis
Q: How did the blonde break her leg raking leaves?
A: She fell out of the tree.
Anonymous
Yo mama so fat when stepped on a scale she said, "How does it know my credit card number?"
Anonymous
Brunette: "Where were you born?"
Blonde: "The United States."
Brunette: "Which part?"
Blonde: "My whole body."
Anonymous
When Magnesium and Oxygen started dating I was like, "O MG!"
Me
A wife comes home late one night and quietly opens the door to her bedroom. From under the blanket, she sees four legs instead of just her husband's two. She reaches for a baseball bat and starts hitting the blanket as hard as she can. Once she's done, she goes to the kitchen to have a drink. As she enters, she sees her husband there, reading a magazine. He says, "Hi darling, your parents have come to visit us, so let them stay in our bedroom. Did you say hello?"
Eddie k