Categories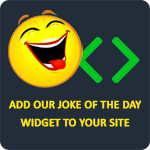 My friend thinks he is smart. He told me an onion is the only food that makes you cry, so I threw a coconut at his face.
funny jokes
Q: What's the difference between a cat and a complex sentence?
A: A cat has claws at the end of its paws and a complex sentence has a pause at the end of its clause.
Anonymous
Q: What do eggs do for fun?
A: Karayolke (karaoke).
big will
A chicken walks into a library, goes up to a librarian and says, "Book book book." The librarian decides that the chicken wants a book so he gives the chicken a book and the chicken walks away. About ten minutes later the chicken comes back with the book, looking a bit agitated, saying, "Book book book." The librarian decides the chicken wants another book so he takes the old book back and gives the chicken another book. The chicken walks out the door. Ten minutes later the chicken comes back again, very agitated, saying, "Book book book!" so quickly it almost sounds like one word. The chicken puts the book on the librarians desk and looks up - waiting for another book. This time the librarian gives the chicken another book and decides that something weird is happening. He follows the chicken out the door and into the park, all the way to the pond. In the pond is a frog sitting on a lily pad. The chicken gives the book to the the frog, who then says, "Reddit, reddit."
Under41
A teacher asks a student, "Are you ignorant or just apathetic?" The kid answers, "I don't know and I don't care."
Mark My Words
You have that far look in your eyes: the farther you are, the better you look.
Anonymous
Q: Why did the chicken cross the möbius strip?
A: To get to the same side.
square boy
A doctor tells an old couple at his office he needs to get a stool sample, a urine sample, and a blood test from the old man. Hard of hearing, the old man asks his wife what the doctor said. The wife replies, "He needs a pair of your underwear."
Mark My Words
Late one night, a preacher was driving on a country road and had a wreck. A farmer stopped and said, "Sir, are you okay?" The preacher said, "Yes, I had the Lord riding with me." The farmer said, "Well, you better let him ride with me, because you're gonna kill him."
Anonymous
Two drunks are sitting in a bar when one of them turns to the other one and asks, "Hey, isn't that Hortense?" The other drunk chimes in and says, "No, she looks pretty relaxed to me."
Mark My Words
A lady comes home from her doctor's appointment grinning from ear to ear. Her husband asks, "Why are you so happy?" The wife says, "The doctor told me that for a forty-five year old woman, I have the breasts of a eighteen year old." "Oh yeah?" quipped her husband, "What did he say about your forty-five year old ass?" She said, "Your name never came up in the conversation."
Mark My Words
Yo mamma is like a door knob: everyone gets a turn.
Anonymous
Ya need an ark? I Noah guy.
Anonymous
Q: What do you call a famous fish?
A: A star fish.
Anonymous
Yo momma is so short, when she went to meet Santa he said, "Go back to work!"
Te Nui-a-Rangi
There was an elderly couple who in their old age noticed that they were getting a lot more forgetful, so they decided to go to the doctor. The doctor told them that they should start writing things down so they don't forget. They went home and the old lady told her husband to get her a bowl of ice cream. "You might want to write it down," she said. The husband said, "No, I can remember that you want a bowl of ice cream." She then told her husband she wanted a bowl of ice cream with whipped cream. "Write it down," she told him, and again he said, "No, no, I can remember: you want a bowl of ice cream with whipped cream." Then the old lady said she wants a bowl of ice cream with whipped cream and a cherry on top. "Write it down," she told her husband and again he said, "No, I got it. You want a bowl of ice cream with whipped cream and a cherry on top." So he goes to get the ice cream and spends an unusually long time in the kitchen, over 30 minutes. He comes out to his wife and hands her a plate of eggs and bacon. The old wife stares at the plate for a moment, then looks at her husband and asks, "Where's the toast?"
Donald Fredrickson
Q: What do parsley and pubic hair have in common?
A: Both of them you brush aside before you start eating.
Mark My Words
A crab walks into a bar and asks for something to drink. The bartender says, "Sorry, we do not serve food."
weston
An old man goes into Victoria's Secret and tells the sales-person behind the counter he needs a present for his wife. "See," explains the man, "It is my fiftieth wedding anniversary and I would like to get something pretty to surprise the little lady, if you know what I mean." When he gets home, his wife asks with a scowl on her face, "Where have you been?" "Surprise," says the old man and hands her a sexy tiny teddy. The wife rips it from his hand and takes it to the bathroom to try it on. She struggles to make it fit, but it is two sizes too small. She take a long time in the bathroom and hopes her husband will lose interest and fall asleep because it is getting late into the evening. Finally she emerges from the bathroom with all the lights out. She is completely nude and pretends to model it in front of him. Her husband, still sitting up, squinting to try and see finally says, "For as much money I spent on it, they could of at least ironed out the wrinkles."
Mark My Words
On a windy day, an old lady is standing on a street corner, holding on to her hat with both hands, even though her dress is flying up over her face. An old man across the street sees her and runs over. As he approaches her, he says, "Sister, you ought to be ashamed of yourself, standing over here in all this wind with your dress flying over your head, exposing your paraphernalia, and you're holding that damn hat with both hands. You ought to be ashamed." She looked at him and said, "Look here, fool, everything down there is 80 years old, but this hat is brand new."
Anthony J