Categories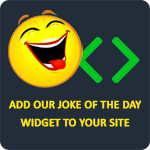 A man goes to a strip club with an alligator. He says, "I bet you that I can put my dick into this alligator's mouth for 1 minute, and when I take it out, it will not be damaged. If I succeed, all of you will buy me drinks. If I fail, I will buy all of you drinks." The other men agree and he puts his dick into the alligator's mouth for 1 minute. After 1 minute, he hits the alligator on the head with a beer bottle, and he opens his mouth. To everyone's surprise, his dick is unharmed. "Now, before you buy me drinks, does anybody else want to try?" After a while, someone in the back finally raises their hand. It's a woman. "I guess I can try," she says, "but you have to promise not to hit me on the head with a beer bottle."
Anonymous
Q: Why do Jewish divorces cost so much?
A: They're worth it.
Bookworm
Q: Why do Jewish mothers make great parole officers?
A: They never let anyone finish a sentence!
Bookworm
Doctor: "You'll live to be 60!"
Patient: "I am 60!"
Doctor: "See! What did I tell you?"
Bookworm
I just got back from a pleasure trip. I took my mother-in-law to the airport.
Bookworm
Q: Why did Barbie never get pregnant?
A: Ken always came in another box.
TheLaughFactory
Q: What's the difference between Tom Cruise and a tuxedo?
A: One comes out of the closet on special occasions and the other is a tuxedo.
Anonymous
Q: Why does a cow wear a bell around its neck?
A: Because its horns don't work.
Krispyk
Yo mama so poor when I went to her house and stepped on a lit cigarette she said, "Who turned the lights out?"
spongebobsquarepants NOT!!!!!
The Lone Ranger woke to see his tent blown away by a tornado. He declared, "Tonto, we're not in canvas anymore."
@flipyou_co_uk
Q: Why can't you see a Hippopotamus hiding in a tree?
A: Because he's really good at it.
Melissa
The difference between like and love is spit and swallow.
Mark My Words
Q: What can only be used after it is broken?
A: An egg.
Megan
Roses are red.
Your blood is too.
You look like a monkey
And belong in a zoo.
Do not worry,
I'll be there too.
Not in the cage,
but laughing at you.
Anonymous
A man comes home early from work and shouts, "Honey, I'm home!" No reply. So he goes upstairs and calls from the landing, "Honey, I am home," but still no reply. Frustrated, he goes into the bedroom and finds his wife on the bed, stark naked. "Oh Norman, I didn't expect you this early," she says, holding her chest and breathing heavily. He thinks she is having an heart attack and runs downstairs to ring for an ambulance. He starts dialing the emergency number when his young daughter starts pulling at his jacket. "Dad," she says. "Dad," she says again. "What is it? I'm busy," he says. "Uncle Jack is in the wardrobe with no clothes on," she tells him. He drops the phone and runs back to the bedroom. "You bastard, you f**king bastard," he shouts angrily at Norman. "You bastard! My wife is having a heart attack and you are going around scaring the kids!"
Thomas Dunn
Q: What's the most expensive Jewish wine?
A: "I wanna go to Florida!"
Mark My Words
Q: What is the difference between a gay guy and a refrigerator?
A: The refrigerator doesn't fart when you pull the meat out.
Mark My Words
Hickory Dickory Dock. Two mice ran up the clock. The clock struck one and the other got away with minor injuries.
Mark My Words
The other night I played strip poker with my old lady: she stripped and I poked her.
Mark My Words
Q: What do you call a rabbit that has fleas?
A: Bugs bunny.
sonic luaghs120