Categories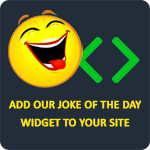 Q: How do you count cows?
A: With a cowculator.
Anonymous
Q: What did the blanket say when it fell of the bed?
A: "Oh sheet!"
gav1467
Q: Why doesn't Dracula have any friends?
A: Because he is a pain in the neck.
Anonymous
Yo momma's like a postal stamp: lick it, stick it, then send that bitch away.
DarkD
Yo momma's like a bowling ball: finger that bitch, then chunk her in the gutter.
DarkD
Yo mama so black that when she jumped into the pool it turned into coffee.
Me
Yo mamma is so fat, black holes get sucked into her.
Anonymous
Wife: "In my dream, I saw you in a jewelry store and you bought me a diamond ring."
Husband: "I had the same dream and I saw your dad paying the bill."
Anonymous
Q: Why shouldn't you make fun of a paleontologist?
A: Because you will get Jurasskicked.
the thingy
10 Facts About You:
1. You're reading this now.
2. You're realizing that this is a stupid fact.
4. You didn't notice I skipped number 3.
5. You're checking now.
6. You're smiling.
7. You're still reading this even though it is stupid.
9. You didn't realize I skipped number 8.
10.You're checking again and smiling because you fell for it again.
11. You're enjoying this.
12. You didn't realize I said 10 facts not 12.
Joke maker
Q: Why is England the wettest country?
A: Because so many kings and queens have been reigning there.
Joke maker
Two guys were playing golf. On the tee, Jack hit his shot way left of the fairway in some buttercups. Bob proceeded to hit and his ball went way off to the right in the bushes. Jack eventually found his ball and proceeded to hit in the buttercups. All of a sudden, he heard a big *POOF* and a fairy appeared. She proceeded to say to Jack that she was Mother Nature and that she was really upset at him for damaging the buttercups. She said, ''Jack, for all the damage that you did to my buttercups, you will not have any butter to put on your toast in the morning for the next month. No, as a matter of fact, I am so upset at you that you won't have any butter for the whole next year! That should teach you a lesson so you won't hurt my creations." *POOF* She disappeared. Jack, stunned by what just happened, called out, "Bob! Bob! Come over here here quick!" Bob replied, "Wait a sec. I'm hitting my shot and I'll be right over." Jack yelled back at Bob, "Where are you?" Bob answered, "I'm over here in the pussy willows." Jack shouted back, "Don't swing Bob! For the love of God, don't swing!"
Normy
Yo mamma is just like a screen door: you keep banging and she gets looser.
Ranehja Johnson
Yo mamma just like a freezer: she lets everyone put their meat in her.
Ranehja Johnson
Two mental patients were walking next to a swimming pool. One jumped into the pool and the other jumped in to save him. Their doctor saw the rescue and called the rescuer to his office. "Due to your actions, it appears your mental state is fine," the doctor said to the patient, "You can go home to your family, but before you do, you should know that the person you saved hung himself today." The patient replied, "He didn't hang himself; I hung him there to dry."
Anonymous
Yo momma like a prize fish: I can mount her or eat her.
Anonymous
I'm in trouble with my next door neighbors. I went over to their house recently to jump on there tramperleen. I had just got on when I heard a voice say, "Hey you, get off my daughter Erleen!"
joe curtis
If pigs could fly, your mom would have wings.
joe curtis
Q: What do you call a cow with two legs?
A: Lean beef.
Anonymous
Q: Why did the blonde put water on her computer?
A: To wash the Windows.
henos