Categories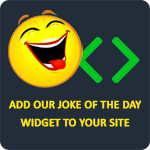 A blonde goes to the doctor's and find out she is pregnant with twins. She starts crying and the doctor asks her what's wrong. She replies, "I know who the dad is for one of them but I don't know who the dad is for the other one!"
blondie
20 years ago we had Johnny Cash, Bob Hope, and Steve Jobs. Now we have no cash, no hope, and no jobs.
james wilson
Q: Why didn't the melons get married?
A: Because they cantaloupe.
Takeoff Zebra
Whoever invented knock knock jokes should get a no bell prize.
Bradley the Best
Yo momma so stupid she thought Bruno Mars was a planet.
Uncle Sam
Q: What do you call a belt with a watch on it?
A: A waist of time.
Apineash and Aliabbas
If money doesn't grow on trees, why do banks have branches?
chris
Q: How do birds fly?
A: They just wing it!
Willem Vanden Herik
Your mama so old her first Christmas was the first Christmas.
hashtag zack morris
Fred: "Why do elephants wear red nail polish?"
Bob: "I don't know, why?"
Fred: "To hide in cherry trees."
Bob: "But I've never seen an elephant in a cherry tree."
Fred: "See, it works."
Swiftie
Girlfriend: "Am I pretty or ugly?"
Boyfriend: "You're both."
Girlfriend: "What do you mean?"
Boyfriend: "You're pretty ugly."
squatter dude
Q: What did the grape say when it was stepped on?
A: Nothing, it just let out a little wine.
taylah
Mr. Brown was working in his garden when on the other side of the fence, he heard his neighbor crying. Mr. Brown popped his head over the fence and asked, "What's the matter Mary? What has upset you?" The blonde neighbor replied, "My dog has died and I'm going to bury it here." Mr. Brown said, "You only have one dog, so why have you dug three holes?" She answered, "The first two were too small."
Ralphy
Q: Why are Helium, Curium, and Barium the medical elements?
A: Because if you can't heal-ium or cure-ium, you bury-um.
Geronimonius
During lunch at work, I ate 3 plates of beans (which I know I shouldn't). When I got home, my husband seemed excited to see me and exclaimed delightedly, "Darling I have a surprise for dinner tonight." He then blindfolded me and led me to my chair at the dinner table. I took a seat and just as he was about to remove my blindfold, the telephone rang. He made me promise not to touch the blindfold until he returned and went to answer the call. The beans I had consumed were still affecting me and the pressure was becoming unbearable, so while my husband was out of the room I seized the opportunity, shifted my weight to one leg and let one go. It was not only loud, but it smelled like a fertilizer truck running over a skunk in front of a garbage dump! I took my napkin from my lap and fanned the air around me vigorously. Then, shifting to the other leg, I ripped off three more. The stink was worse than cooked cabbage. Keeping my ears carefully tuned to the conversation in the other room, I went on releasing atomic bombs like this for another few minutes. The pleasure was indescribable! Eventually the telephone farewells signaled the end of my freedom, so I quickly fanned the air a few more times with my napkin, placed it on my lap and folded my hands back on it feeling very relieved and pleased with myself. My face must have been the picture of innocence when my husband returned, apologizing for taking so long. He asked me if I had peaked through the blindfold, and I assured him I had not. At this point, he removed the blindfold, and twelve dinner guests seated around the table, with their hands to their noses, chorused, "Happy Birthday!"
heso1
My wife was complaining the other day saying that I never take her anywhere expensive anymore. So I said, "Come on, get in the car. We're going to the gas station."
Gurney
Did you hear about the butcher who backed up into the meat grinder? He got a little behind in his work.
A. Falkenburg
An old woman is upset at her husband's funeral. "You have him in a brown suit and I wanted him in a blue suit." The mortician says, "We'll take care of it, ma'am," and yells to the back, "Ed, switch the heads on two and four!"
Erminie
In the first year of marriage, the man speaks and the woman listens. In the second year, the woman speaks and the man listens. In the third year, they both speak and the neighbors listen.
Me, MotherRussia
Innkeeper: "The room is $15 a night. It's $5 if you make your own bed."
Guest: "I'll make my own bed."
Innkeeper: "Good. I'll get you some nails and wood."
Fabio