Categories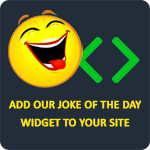 Q: Why does Humpty Dumpty love autumn?
A: Because Humpty Dumpty had a great fall.
TheLaughFactory
Q: How do you erase a blonde's memory?
A: You blow in her ear.
Anonymous
Chintu: "You never study, so how come you don't fail your math tests?"
Pintu: "Because whenever there is a math test, I don't go to school!"
Anonymous
Q: Why do pilgrims pants fall down?
A: Because their belts are on their hats.
Anonymous
A man was walking down the street and saw a sign in a store window that said "Help Wanted," so the man ran in the store and yelled out, "What's wrong?!"
Anonymous
Q: What does a skeleton order at a restaurant?
A: Spare ribs!
cupcake22
Q: Why did the tofu cross the road?
A: To prove he wasn't chicken.
Victor Le
Boyfriend: "ILY."
Girlfriend: "Can you please say the words? It makes it better."
Boyfriend: "I'm leaving you."
Marcie
Q: How did the blonde fisherman die?
A: He was run over by the Zamboni.
Anonymous
A father and son are out shopping for Christmas presents for their family. The son asks, "What present are my sister and I going to get?" The dad answers, "I got you guys an iPad and iPod." "Wow, thanks," the son replies, "What will you give mom?" The dad says, "Your mom is getting an iRon."
zac bailie
Q: Did you hear about the guy with French asthma?
A: He could only catch his breath in snatches.
Suicyco247
Yo mama so ugly when she was born the doctor saw her butt and then her face and he said, "It's twins!"
Megan
Two Irishmen friends are drinking together at one of their homes. One friend takes out a bottle of Irish whiskey and asks the other, "Will you pour this bottle out on my grave if I die first?" His friend replies, "Do you mind if I pass it through my kidneys first?"
Mark My Words
A man is angry because he has it in his head that someone stole his wallet. He walks into a church to steal someone else's wallet, but he has a change of heart during the service. He confesses to the priest afterwards about what his intentions had initially been. The priest asks, "What made you change your mind?" The man says, "In your sermon on the Ten Commandments when you got to 'Thou shall not commit adultery,' I remembered where I left my wallet!"
Mark My Words
Brunette: "Where were you born?"
Blonde: "California."
Brunette: "Which part?"
Blonde: "All of me."
Laughat28
Johnny was playing outside when he had to go to the bathroom. He runs inside his house and his grandma was in the bathroom naked about to take a shower. He looks at her crotch and says, "Whats that?" She says, "Well, it's a beaver, Johnny." The next day the same thing happens, only his mom is taking the shower. He says, "Mom I know what that is. It's a beaver, but I think grandma's is dead because its tongue is hanging out."
Anonymous
A man walks into a bar and sits down. He asks the bartender, "Can I have a cigarette?" The bartender replies, "Sure, the cigarette machine is over there." So he walks over to the machine and as he is about to order a cigarette, the machine suddenly says, "Oi, you bloody idiot." The man says with surprise in his voice, "That's not very nice." He returns to his bar stool without a cigarette and asks the bartender for some peanuts. The bartender passes the man a bowl of peanuts and the man hears one of the peanuts speak, "Ooh, I like your hair." The man says to the bartender, "Hey, what's going on here? Your cigarette machine is insulting me and this peanut is coming on to me. Why's this?" The bartender replies, "Oh, that's because the machine is out of order and the peanuts are complementary."
Liam Singleton
Q: What did the big chimney say to the little chimney?
A: You're too young to smoke.
Anonymous
Q: What do you call a dinosaur with an extensive vocabulary?
A: A thesaurus.
Silenxio Maximeaning Ultimious
Q: How do get a blond on the roof?
A: You tell her the food is on the house.
Anonymous