Categories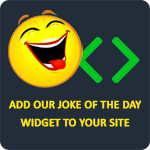 A young couple is on their honeymoon. The husband is sitting in the bathroom on the edge of the bathtub saying to himself, "Now how can I tell my wife that I've got really smelly feet and that my socks absolutely stink? I've managed to keep it from her while we were dating, but she's bound to find out sooner or later that my feet stink. Now how do I tell her?" Meanwhile, the wife is sitting in the bed saying to herself, "Now how do I tell my husband that I've got really bad breath? I've been very lucky to keep it from him while we were courting, but as soon as he's lived with me for a week, he's bound to find out. Now how do I tell him gently?" The husband finally plucks up enough courage to tell his wife and walks into the bedroom. He walks over to the bed, climbs over to his wife, puts his arm around her neck, moves his face very close to hers and says, "Darling, I've got a confession to make." She says, "So have I, love." To which he replies, "Don't tell me, you've eaten my socks."
Today's Joke
milagallo
An elephant and a camel are talking. The elephant asks, "Why do you have boobs on your back?" The camel replies, "Ha! That's a funny question coming from an animal with a penis hanging from his face."
Featured on March 02, 2015
dakota harjo
Q: What did the cannibal do after dumping his girlfriend?
A: He wiped his bum.
Featured on March 01, 2015
That Wright
A blonde goes into a nearby store and asks a clerk if she can buy the TV in the corner. The clerk looks at her and says that he doesn't serve blondes, so she goes back home and dyes her hair black. The next day she returns to the store and asks the same thing, and again, the clerk said he doesn't serve blondes. Frustrated, the blonde goes home and dyes her hair yet again, to a shade of red. Sure that a clerk would sell her the TV this time, she returns and asks a different clerk this time. To her astonishment, this clerk also says that she doesn't serve blondes. The blonde asks the clerk, "How in the world do you know I am a blonde?" The clerk looks at her disgustedly and says,"That's not a TV, it's a microwave!"
Featured on February 28, 2015
oscarbejarano
Yo momma's so fat, she got baptized at Sea World.
Featured on February 27, 2015
LaughFactory
A boy is selling fish on a corner. To get his customers' attention, he is yelling, "Dam fish for sale! Get your dam fish here!" A pastor hears this and asks, "Why are you calling them 'dam fish.'" The boy responds, "Because I caught these fish at the local dam." The pastor buys a couple fish, takes them home to his wife, and asks her to cook the dam fish. The wife responds surprised, "I didn't know it was acceptable for a preacher to speak that way." He explains to her why they are dam fish. Later at the dinner table, he asks his son to pass the dam fish. He responds, "That's the spirit, Dad! Now pass the f*cking potatoes!"
Featured on February 26, 2015
bandajoey92
A wife and husband are having money issues. One day they decide to have the wife work the corner. Later that night the husband goes to pick the wife up. He asks, "How much did you make, sweetie?" She answers, "I made $200.50." The husband says, "What asshole gave you 50 cents?" She replies, "All of them."
Featured on February 25, 2015
Colby
A man got hit in the head with a can of Coke, but he was alright because it was a soft drink.
Featured on February 24, 2015
Anonymous