Categories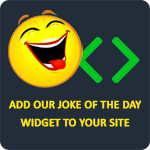 Q: How do trees access the internet?
A: They log in.
Today's Joke
Kimberly Mauldin
Blonde: "What does IDK stand for?"
Brunette: "I don't know."
Blonde: "OMG, nobody does!"
Featured on September 15, 2014
Anonymous
At a wedding party recently, someone yelled, "All the married men, please stand next to the one person who has made your life worth living!" The bartender was crushed to death.
Featured on September 14, 2014
mlevin1958
A man escapes from prison where he has been for 15 years. He breaks into a house to look for money and guns, and finds a young couple in bed. He orders the guy out of bed and ties him to a chair. He ties the girl to the bed and he gets on top of her, kisses her neck, and then gets up and goes into the bathroom. While he's in there, the husband tells his wife, "Listen, this guy is an escaped convict, look at his clothes! He probably spent lots of time in jail and hasn't seen a woman in years. I saw how he kissed your neck. If he wants sex, don't resist, don't complain, do whatever he tells you. Satisfy him no matter how much he nauseates you. This guy is probably very dangerous. If he gets angry, he'll kill us. Be strong, honey. I love you." His wife responds, "He wasn't kissing my neck. He was whispering in my ear. He told me he was gay, thought you were cute, and asked me if we had any Vaseline. I told him it was in the bathroom. Be strong honey. I love you, too!"
Featured on September 13, 2014
peeh
Did you know that dolphins are so smart that within a few weeks of captivity, they can train people to stand on the edge of their pool and throw them fish?
Featured on September 12, 2014
Anonymous
If you ever get cold, just stand in the corner of a room for a while. They're normally around 90 degrees.
Featured on September 11, 2014
Anonymous
Yo Mama is so fat, when she pressed the UP button on the elevator it went DOWN.
Featured on September 10, 2014
Anonymous
A woman goes to her boyfriend's parents' house for dinner. This is her first time meeting the family and she is very nervous. They all sit down and begin eating a fine meal. The woman is beginning to feel a little discomfort, thanks to her nervousness and the broccoli casserole. The gas pains are almost making her eyes water. Left with no other choice, she decides to relieve herself a bit and lets out a dainty little fart. It wasn't loud, but everyone at the table heard the poot. Before she even had a chance to be embarrassed, her boyfriend's father looked over at the dog that had been snoozing at the women's feet, and said in a rather stern voice, "Ginger!" The woman thought, "This is great!" and a big smile came across her face. A couple minutes later, she was beginning to feel the pain again. This time, she didn't hesitate. She let a much louder and longer fart rip. The father again looked at the dog and yelled, "Dammit, Ginger!" Once again the woman smiled and thought, "Yes!" A few minutes later the woman had to let another one rip. This time she didn't even think about it. She let rip a fart that rivaled a train whistle blowing. Again, the father looked at the dog with disgust and yelled, "Dammit, Ginger, get away from her before she shits on you!"
Featured on September 09, 2014
Legolas