Categories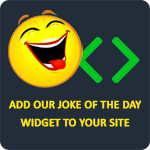 I never forget a face, but in your case I will make an exception.
Today's Joke
saralyn d
Yo momma's breath smelled so bad when she walked by a clock it said, "Tic Tac."
Featured on October 09, 2015
Jakob mihyer (Meyer)
A couple is trying to have a baby. Finally, the blonde tells her husband, "Honey, I have great news! We're pregnant, and we're having twins!" The husband is overjoyed and says to his wife, "Honey that's wonderful, but how do you know so soon that we're having twins?" She nods her head and says, "Well, I bought the twin pack pregnancy test and they both came out positive!"
Featured on October 08, 2015
normponce
A cowboy goes down to the stable, lifts his horse's tail, and plants a kiss smack dab on the horses butthole. Another cowboy sees this and yells, "What the hell are you doing?" He replies, "I've got chapped lips." The other cowboy asks, "Does that help?" "Nope," he answers, "It just keeps me from licking them."
Featured on October 07, 2015
Anonymous
Q: Did you hear abut the hungry clock?
A: It went back four seconds.
Featured on October 06, 2015
LAMEGIRL23
Teacher: "Which book has helped you the most in your life?"
Student: "My father's check book!"
Featured on October 05, 2015
Anonymous
Yo momma's so dumb, when your aunt had twins, she asked yo momma to name them. She named one Denise, and the other Denephew.
Featured on October 04, 2015
LaughFactory
A blonde goes to a soda machine. She puts in a dollar and gets a soda. She does this again and again. A man in line behind her asks why she is taking so long. She says, "Can't you see I'm winning?"
Featured on October 03, 2015
Anonymous