Categories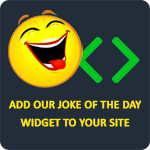 I'm about three years into my relationship now and I've started to have erection difficulties. My girlfriend and I have different ideas as to what the problem is: she bought me some Viagra and I bought her a treadmill.
Today's Joke
george
One day a man came home from work to find his wife crying hysterically in the kitchen. "What's wrong, dearest?" asked the confused husband. "Oh darling," sobbed the wife, "I was cleaning little Suzie's room when I found whips, handcuffs and chains under her bed, along with a very erotic porn magazine! What ever are we going to do?" "Well," replied the man, "I guess a spanking is out of the question?"
Featured on May 27, 2015
Connor
Three elderly men are taking a walk outside their nursing home. The first one says, "Windy, isn't it?" The second one says, "No, it's Thursday!" The third one says, "So am I. Let's go get a beer."
Featured on May 26, 2015
Mr. Minear
How did the blonde die drinking milk? The cow fell on her.
Featured on May 25, 2015
A Redhead
A lawyer was well into a lengthy cross-examination of a witness, when he stopped and said, "I object, your honor! One of the jurors is asleep." The Judge ruled, "You put him to sleep, so you wake him up."
Featured on May 24, 2015
george
I didn't like my beard at first. Then it grew on me.
Featured on May 23, 2015
Silenxio Maximeaning Ultimious
In heaven, the angels asked God where he would spend his next holiday. God said, "Definitely not on Earth. Last time I went there, I left a girl pregnant and those people haven't stopped talking about it since!"
Featured on May 22, 2015
riley
Teacher: "I asked you to draw a cow and grass, but I only see a cow. Where is grass?"
Student: "The cow ate the grass, sir."
Featured on May 21, 2015
Ponyboy