Categories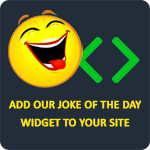 Q: Why did the skeleton cross the road?
A: To get to the body shop.
Today's Joke
Lucyfaith16
Yo momma's so fat, her baby pictures were taken by satellite.
Featured on August 21, 2014
LaughFactory
A string walks into a bar and orders a drink. The bartender turns to him and says, "Sorry, sir, we don't serve strings here." The next day, clinging to a thread, the string returns to that same bar and orders a drink again. The bartender, resolute, again turns and says, "I'm sorry, sir, but like I said, we don't serve strings here. I'm going to have to ask you not to return." Dejected, the string returns home. All night he tosses and turns, wriggles and writhes, and awakes the next morning not at all resembling himself. Catching a glimpse of himself in the mirror, he brightens and jets out his door to that bar. Swaggering in, he orders a drink one more time. The bartender stares at him, squinty eyed, and asks, "I'm sorry, are you a string? You look very familiar." The string locks eyes with the bartender, and states, "No, sir. I'm a frayed knot."
Featured on August 20, 2014
missrose
Little Sally came home from school with a smile on her face, and told her mother, "Frankie Brown showed me his weenie today at the playground!" Before the mother could raise a concern, Sally went on to say, "It reminded me of a peanut." Relaxing with a hidden smile, Sally's mom asked, "Really small, was it?" Sally replied, "No, salty." Mom fainted.
Featured on August 19, 2014
ezmoney
Q: What do you call a nun in a wheelchair? A: Virgin Mobile
Featured on August 18, 2014
Anonymous
A clear conscience is usually the sign of a bad memory.
Featured on August 17, 2014
Anonymous
Yo mamma is so stupid, she stopped her car at a stop sign and she's still waiting for it to turn green.
Featured on August 16, 2014
Anonymous
There was this guy at a bar, just looking at his drink. He stays like that for a half hour. Then a big trouble making truck driver steps next to him, takes the drink from the guy, & just drinks it all down. The poor man starts crying. The truck driver says, "Come on man, I was just joking. Here, I'll buy you another drink. I just can't stand to see a man cry." "No, it's not that," the man replies, wiping his tears, "This day is the worst of my life. First, I oversleep & I go in late to my office. My outraged boss fires me. When I leave the building to go to my car, I find out it was stolen. The police say they can do nothing. I get a cab to go home, & when I get out, I remember I left my wallet. The cab driver just drives away. I go inside my house where I find my wife in bed with the gardener. I leave my home, come to this bar, & just when I was thinking about putting an end to my life, you show up & drink my poison."
Featured on August 15, 2014
Thommy53