Categories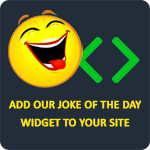 Why are sharks mostly salt water creatures? Because pepper would make them sneeze.
Today's Joke
Repor9
A blind guy on a bar stool shouts to the bartender, "Wanna hear a blonde joke?" In a hushed voice, the guy next to him says, "Before you tell that joke, you should know something. Our bartender is blonde, the bouncer is blonde. I'm a six foot tall, 200 lb black belt. The guy sitting next to me is six foot two, weighs 225, and he's a rugby player. The fella to your right is six foot five, pushing 300, and he's a wrestler. Each one of us is blonde. Think about it, Mister. Do you still wanna tell that joke?" The blind guy says, "Nah, not if I'm gonna have to explain it five times."
Featured on December 08, 2013
sendmeluck
What is a Mexican's favorite sport? Cross-country.
Featured on December 07, 2013
maryochoa
A blonde gets lost and calls for directions. The operator asks which cross streets she's at. The blonde replies, "I'm on the corner of 'Walk' and 'Do Not Walk.' "
Featured on December 05, 2013
moneekers
Yo momma's so cross-eyed, she went to a movie and thought it was a double feature.
Featured on December 04, 2013
LaughFactory
Late one night a burglar broke into a house and while he was sneaking around he heard a voice say, "Jesús is watching you." He looked around and saw nothing. He kept on creeping and again heard, "Jesús is watching you." In a dark corner, he saw a cage with a parrot inside. The burglar asked the parrot, "Was it you who said Jesús is watching me" The parrot replied, "Yes." Relieved, the burglar asked, "What is your name?" The parrot said, "Clarence." The burglar said, "That's a stupid name for a parrot. What idiot named you Clarence?" The parrot answered, "The same idiot that named the rottweiler Jesús."
Featured on December 03, 2013
Mysteryguy9871
Grandma and Grandpa were visiting their kids overnight . When Grandpa found a bottle of Viagra in his son's medicine cabinet, he asked about using one of the pills. The son said, "I don't think you should take one Dad, they're very strong and very expensive." "How much?" asked Grandpa. "$10.00 a pill," answered the son. "I don't care," said Grandpa, "I'd still like to try one, and before we leave in the morning, I'll put the money under the pillow. " Later the next morning, the son found $110 under the pillow. He called Grandpa and said, "I told you each pill was $10, not $110. "I know," said Grandpa. "The hundred is from Grandma!"
Featured on December 02, 2013
nellychokler