Categories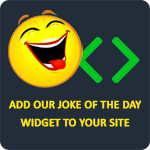 A man comes home early from work and tells his wife he just got fired. He tells her, "I got caught with my penis in the pickle slicer." His wife asks him if his penis is okay and he assures her it is fine. "Well," she asks, "What happened to the pickle slicer?" "Oh," he says, "She got fired too."
Today's Joke
Mark My Words
A child asked his father, "How were people born?" So his father said, "Adam and Eve made babies, then their babies became adults and made babies, and so on." The child then went to his mother, asked her the same question and she told him, "We were monkeys then we evolved to become like we are now." The child ran back to his father and said, "You lied to me!" His father replied, "No, your mom was talking about her side of the family."
Featured on November 30, 2015
Anonymous
Three brothers wanted to give their blind mom a birthday gift. The first got her a big beautiful house. The second got her a brand new luxury vehicle with a driver. The third got her a talking parrot to keep her company. When they all got together, they wanted to know which gift she liked best. She said they were all great but she thanked her third son because she liked the chicken dinner best.
Featured on November 29, 2015
twicks50
A boy asks his dad, "What's the difference between potential and realistic?" The dad tells him to go ask the rest of his family if they'd sleep with Brad Pitt for a million dollars, and then he'd tell him the answer. The boy goes up to his mom and asks her. She responds, "A million dollars is a lot of money sweetheart. I could send you, your sister, and your brother to great colleges, so sure, I would!" He then goes and asks his sister to which she replies, "Brad Pitt? Hell ya, he's the hottest guy ever!" Next, the boy asks his brother who replies, "A million dollars? Hell yes I would. I'd be rich!" When the boy excitedly returns to his dad with the family's responses, the dad says, "Well son, potentially, we have three million dollars. Realistically, we have two sluts and a queer."
Featured on November 28, 2015
davey21
How do Mexicans take a family portrait? They all gather together on the back of a pickup truck and run a red light!
Featured on November 27, 2015
staciebean2007
I don't really like watching basketball, I just watch it to find out who the next member of the Kardashian family will be.
Featured on November 26, 2015
KNVanLeuven
A hillbilly family's only son saves up money to go to college. After about three years, he comes back home. They are sitting around the dinner table, when the dad says, ''Well son, you done gone to college, so you must be perty smart. Why don't you speak some math fer' us?'' ''Ok, Pa.'' The son then says, ''Pi R squared.'' After a moment, the dad says, ''Why son, they ain't teached ya nothin'! Pie are round, cornbread are square.''
Featured on November 25, 2015
aashok
Yo momma's so fat, she's on both sides of the family.
Featured on November 24, 2015
Darlene