Categories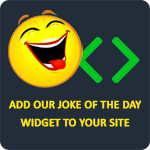 I never forget a face! But in your case I'll make an exception!
kandie24
If you think nobody cares if you're alive, try missing a couple of car payments.
eugene611
I'll never forget the first time we met, although I'll keep trying.
LaughFactory
A mother said to her son, "Look at that kid over there; he's not misbehaving." The son replied, "Maybe he has good parents then!"
Anonymous
A man asks a woman, "Haven't I seen you someplace before?" The woman responds, "Yeah, that's why I don't go there anymore."
LaughFactory