Categories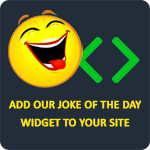 God made rivers, God made lakes, God made you, Hell, everyone makes mistakes.
rogger316
If you think nobody cares if you're alive, try missing a couple of car payments.
eugene611
I'll never forget the first time we met, although I'll keep trying.
LaughFactory
A man asks a woman, "Haven't I seen you someplace before?" The woman responds, "Yeah, that's why I don't go there anymore."
LaughFactory
Your teeth are so big when you sneeze you bite your chest.
alhagie richards