Categories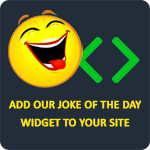 Kid 1: "Hey, I bet you're still a virgin."
Kid 2: "Yeah, I was a virgin until last night ."
Kid 1: "As if."
Kid 2: "Yeah, just ask your sister."
Kid 1: "I don't have a sister."
Kid 2: "You will in about nine months."
Achtung
God made rivers, God made lakes, God made you, Hell, everyone makes mistakes.
rogger316
A man asks a woman, "Haven't I seen you someplace before?" The woman responds, "Yeah, that's why I don't go there anymore."
LaughFactory
My friend told me he had the body of a Greek god. I had to explain to him that Buddha is not Greek.
Cuba
If I throw a stick, will you go away?
LaughFactory