Categories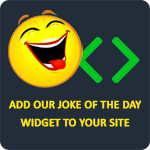 A man asks a woman, "Haven't I seen you someplace before?" The woman responds, "Yeah, that's why I don't go there anymore."
LaughFactory
You've got the perfect weapon against muggers. Your face.
LaughFactory
You're lucky mirrors don't talk, or laugh for that matter.
LaughFactory
How did giraffes come to be? Chuck Norris uppercut a horse.
greatlover16
You should do some soul-searching. Maybe you'll find one.
LaughFactory