Categories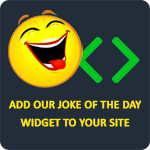 An old teacher asked her student, "If I say, 'I am beautiful,' which tense is that?" The student replied, "It is obviously past."
Anonymous
I heard that you went to the haunted house and they offered you a job.
LaughFactory
You've got the perfect weapon against muggers. Your face.
LaughFactory
You're lucky mirrors don't talk, or laugh for that matter.
LaughFactory
Well, they do say opposites attract. So I sincerely hope you meet somebody who is attractive, honest, intelligent, and cultured.
LaughFactory