Categories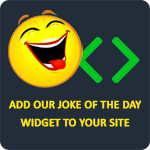 Why don't you slip into something more comfortable, like a coma.
LaughFactory
How did giraffes come to be? Chuck Norris uppercut a horse.
greatlover16
God made rivers, God made lakes, God made you, Hell, everyone makes mistakes.
rogger316
I heard that you went to the haunted house and they offered you a job.
LaughFactory
Tell me, as an outsider, what do you think of the human race?
LaughFactory