Categories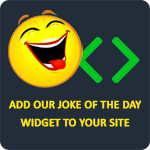 Why don't you slip into something more comfortable, like a coma.
LaughFactory
God made rivers, God made lakes, God made you, Hell, everyone makes mistakes.
rogger316
A lady comes home from her doctor's appointment grinning from ear to ear. Her husband asks, "Why are you so happy?" The wife says, "The doctor told me that for a forty-five year old woman, I have the breasts of a eighteen year old." "Oh yeah?" quipped her husband, "What did he say about your forty-five year old ass?" She said, "Your name never came up in the conversation."
Mark My Words
I never forget a face! But in your case I'll make an exception!
kandie24
If you think nobody cares if you're alive, try missing a couple of car payments.
eugene611