Categories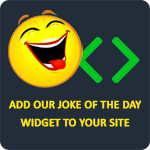 I never forget a face! But in your case I'll make an exception!
kandie24
God made rivers, God made lakes, God made you, Hell, everyone makes mistakes.
rogger316
If you think nobody cares if you're alive, try missing a couple of car payments.
eugene611
I'll never forget the first time we met, although I'll keep trying.
LaughFactory
An old teacher asked her student, "If I say, 'I am beautiful,' which tense is that?" The student replied, "It is obviously past."
Anonymous