Categories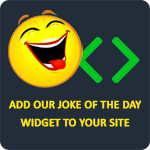 Your Halloween costume came in the mail today. I opened it. It was a rooster mask and a bag of lollipops. Going as a c*ck sucker again!?
jewelzee86
Why don't you slip into something more comfortable, like a coma.
LaughFactory
If I throw a stick, will you go away?
LaughFactory
Insult: If you were any dumber, your head would implode.
Response: If you were a little bit more intelligent you'd still be stupid.
LaughFactory
God made rivers, God made lakes, God made you, Hell, everyone makes mistakes.
rogger316