Categories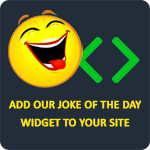 Man: I want to give myself to you.
Woman: Sorry, I don't accept cheap gifts.
LaughFactory
What's the difference between three penises and a joke? Your mom can't take a joke.
TOBYMTZ1083
One woman I was dating called and said, "Come on over, there's nobody home." I went over. Nobody was home.
stepbreaker
You have so many gaps in your teeth, it looks like your tongue is in jail.
princessdee7
You are so ugly, the last time you got a piece of ass was when your hand slipped through the toilet paper.
LaughFactory