Categories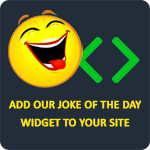 Girl: "Girls are better than boys."
Boy: "Then why did God make boys first?"
Girl: "Duh, you have to have a rough draft before the final copy."
FuzzyPanda123
Man: I want to give myself to you.
Woman: Sorry, I don't accept cheap gifts.
LaughFactory
You know you're getting fat when you say you're fat in front of your friends and nobody corrects you.
assyrian
A mother said to her son, "Look at that kid over there; he's not misbehaving." The son replied, "Maybe he has good parents then!"
Anonymous
What's the difference between three penises and a joke? Your mom can't take a joke.
TOBYMTZ1083