Categories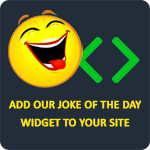 Man: I want to give myself to you.
Woman: Sorry, I don't accept cheap gifts.
LaughFactory
Girlfriend: "Am I pretty or ugly?"
Boyfriend: "You're both."
Girlfriend: "What do you mean?"
Boyfriend: "You're pretty ugly."
squatter dude
What's the difference between three penises and a joke? Your mom can't take a joke.
TOBYMTZ1083
One woman I was dating called and said, "Come on over, there's nobody home." I went over. Nobody was home.
stepbreaker
You have so many gaps in your teeth, it looks like your tongue is in jail.
princessdee7