Categories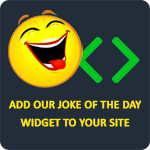 My friend thinks he is smart. He told me an onion is the only food that makes you cry, so I threw a coconut at his face.
funny jokes
A lady comes home from her doctor's appointment grinning from ear to ear. Her husband asks, "Why are you so happy?" The wife says, "The doctor told me that for a forty-five year old woman, I have the breasts of a eighteen year old." "Oh yeah?" quipped her husband, "What did he say about your forty-five year old ass?" She said, "Your name never came up in the conversation."
Mark My Words
You know you're getting fat when you say you're fat in front of your friends and nobody corrects you.
assyrian
Man: I want to give myself to you.
Woman: Sorry, I don't accept cheap gifts.
LaughFactory
What's the difference between three penises and a joke? Your mom can't take a joke.
TOBYMTZ1083