Categories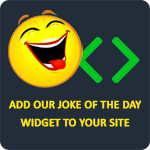 A lady comes home from her doctor's appointment grinning from ear to ear. Her husband asks, "Why are you so happy?" The wife says, "The doctor told me that for a forty-five year old woman, I have the breasts of a eighteen year old." "Oh yeah?" quipped her husband, "What did he say about your forty-five year old ass?" She said, "Your name never came up in the conversation."
Mark My Words
A husband says to his wife, "You know, our son got his brain from me." The wife replies, "I think he did. I still got mine with me!"
shahrzad
I saw a young teenage kid on the subway today. He had a Mohawk hairstyle dyed yellow, green, and red. He caught me staring at him and in a nasty voice asked, "What the f*ck are you looking at?" I replied, "Sorry, but when I was about your age I had sex with a parrot. I thought maybe you were my son."
luis
An old teacher asked her student, "If I say, 'I am beautiful,' which tense is that?" The student replied, "It is obviously past."
Anonymous
You know you're getting fat when you say you're fat in front of your friends and nobody corrects you.
assyrian