Categories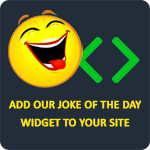 Interviewer: "What's your greatest weakness?"
Candidate: "Honesty."
Interviewer: "I don't think honesty is a weakness."
Candidate: "I don't give a f*ck what you think."
TheLaughFactory
How to be Insulting on Public Transportation: Pretend to be foreign when the conductor asks for your fare and try to give him the wrong denomination of money.
LaughFactory
Q: How do you embarrass an archaeologist? A: Give him a used tampon and ask him which period it came from.
Anonymous
How to be Insulting at Christmas: Try to find what you were given last year and give it back to the person who gave it to you.
LaughFactory
How to be insulting at the library: Find the coziest reading nook and start snoring.
shoff40